In a short film by the charity Age UK, actor James Bolan narrates 83-year-old Roy's words, telling the audience about the love of his life... his wife.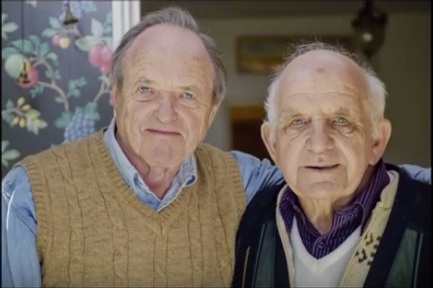 "I remember the first time I saw her. She had a lemon yellow dress on."
Every day for 55 years the couple were together, until her death brought Roy not just grief but chronic loneliness.
"She was my right hand man" he says putting his dinner in the oven.
"Suddenly you've got no one to talk to and so you start talking to yourself."
Speaking after the film was made, Roy said: "My beautiful wife passed away one year ago and not a day goes by when I don't miss her dearly."
Roy's real-life personal story was made into a film as part of Age UK's Christmas campaign, to highlight the 'silent suffering' of loneliness felt by older people.
The charity's 'No one should have no one at Christmas' campaign publicises its telephone befriending service, which arranges weekly friendship calls to give Roy and other older people someone to talk to.
The 'Call in Time' telephone service matches an older person with a volunteer, based on their shared interests. Roy said: "I look forward to my weekly call and visit. I hit it off splendidly with the volunteers I was matched with. I'm feeling much more confident and positive now."
'I chat to the checkout girl, just to hear the sound of my own voice'
The thoughts and feelings of 70-year-old Janet are also featured in the campaign's short film, with Harry Potter actress Miriam Margoyles narrating her words.
Janet said: "I've dedicated my life to my career and then one day I found myself older and lonely – this wasn't what I was used to, or what I wanted.
"When you haven't spoken to anyone for days or weeks it's like I've forgotten how to speak.
"So I go to the shops and chat to the checkout girl, just to hear the sound of my own voice.
"Joining Age UK's Call in Time service has without doubt helped me through some very difficult days. My befriender calls me every week and selflessly listens to me.
"We discuss all sorts of topics and usually end up having a laugh; which cheers me up."
More than 1.2 million people are chronically lonely. Almost one million (982,200) people aged 60+ feel lonelier at Christmas time, (with those who are single, separated or widowed feeling it the most), according to a poll conducted last November by the charity.
GPs told to send widows to dancing and swimming clubs
NICE (National Institute for Health and Care) recently published a new standard urging GPs to direct older people at risk of loneliness (including widows) to dance, swimming, arts and singing groups.
As well as GPs, the third sector, councils and housing associations are being urged to help lonely people by encouraging them to join clubs, read in schools as well as volunteer and join in befriending programmes.
Professor Gillian Leng, deputy chief executive of NICE, said: "There is no one-size-fits-all approach to promote and protect the mental wellbeing and independence of older people.
"Our new quality standard calls for older people at risk to be identified and offered appropriate activities."
As well as benefiting communities, NICE argues such activities can reduce, delay or avoid their use of health and social care services as a result of dementia and other conditions related to old age.
Anyone who is experiencing feelings of loneliness and would like to sign up to Age UK's telephone befriending service should visit www.ageuk.org.uk/no-one or call Age UK Advice for free on 0800 169 6565.
Find out how you can donate, volunteer and pledge your support to AGE UK at www.ageuk.org.uk/no-one.