Sajid Javid announces extra £900m for adult social care over two years
15-Dec-16
Article By:
Angeline Albert, News Editor
Councils are being given the power to raise tax for social care by six per cent over the next two years, as part of £900m of extra money, but critics call it a 'sticking plaster' for the care sector's ills.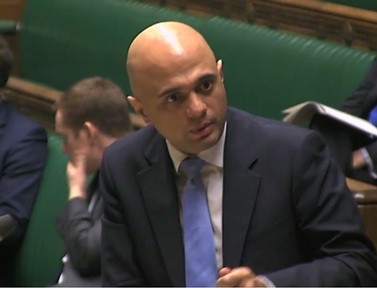 Local authorities across England will be able to add a three per cent levy to council tax bills in 2017/18 and an extra three per cent in 2018/19.
Communities Secretary Sajid Javid announced the move in a statement to the House of Commons about the Local Government Finance Settlement. Currently the social care precept allows councils to raise as much as two per cent a year through council tax for adult social care.
The minister told MPs an additional £652m could be raised from the social care precept (£208m in 2017/18 and £444m in 2018/19).
New homes bonus money
Mr Javid also announced that over the next two years: "New money of £240m which otherwise would have gone into the 'new homes bonus' budget will be transferred to adult social care budgets."
Against a backdrop of jeers in the House of Commons, the minister said of the £652m from the social care precept and £240m from the new homes bonus: "This is £900m additional money over the next two years, which would not have happened had these changes not been announced."
The minister also said: "The overall increase in the social care precept over the next three years will remain at six per cent".
Some 97 per cent of councils have accepted the settlement and 10 councils have not.
Louise Ellman, Labour MP for Liverpool Riverside, said the minister "was asking poorer people to pay more" and Clive Efford, Labour MP for Eltham, accused the minister of putting "a sticking plaster" on a gaping hole.
Postcode lottery in care
Norman Lamb, Liberal Democrat MP for North Norfolk called it a "feeble response to a national social care crisis" saying: "This will increase inequalities. It would be short sighted – and stupid – to create a postcode lottery in care where wealthier councils can raise the money they need and poorer areas are left underfunded."
How much would a three per cent levy raise per older person?
New research reveals a three per cent social care precept won't benefit the local authorities which need it most.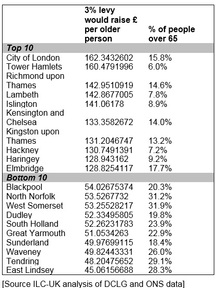 Economists at the International Longevity Centre - UK (ILC-UK) have said a three per cent precept in Tower Hamlets raises £160 for every person over the age of 65. This is despite the fact it has a very low proportion of older people (just six per cent are over the age of 65).
By contrast, West Somerset only brings in £53 per older person, despite having the highest proportion of older people in the country.
Ben Franklin, head of Economics at ILC-UK said: "Sadly, this announcement seems to be about spin not substance. Simply raising the precept will be nowhere near adequate to meeting the care needs of the UK's ageing population and will exacerbate the extreme post-code lottery that already exists for people trying to access care services. "The promise that local authorities can keep the new homes bonus is a sticking plaster on top of a sticking plaster."
Going back on care cap pledge 'cruel'
In the House of Commons, Karin Smyth, Labour MP for Bristol South, told the minister: "I think one of the cruelest things that this Government did was to renege in on its manifesto commitment to cap care costs, forcing more families to continue to live in the silent misery that is social care. "That postponement delivered over £2bn of savings." Referring to Mr Javid's statement she said:"I heard nothing about further implementation of the Care Act."
In response, Mr Javid said: "We are delaying them because we are listening to local authorities, many of them have asked for a delay."
Dr Alison Rose-Quirie, chief executive of Swanton Care and Community, also believes that a higher council tax precept will do nothing to solve the crisis.
She said: "As we have already seen there is no mechanism to ensure that this extra money actually makes its way to frontline services. At Swanton we have agreed just 50 per cent of this year's fee uplifts with local authorities, many just won't make a decision 10 months in, the need for additional funding is urgent.
"What the Government is failing to realise is that this is a funding crisis today, right now, not in three months' time. I would urge them to release an extra £2 billion immediately to avert a collapse of the system and to buy the time to find a real and long-lasting funding solution for social care which in my view will require structural change."