Premier League football clubs have been highlighted as having inadequate facilities for fans with disabilities and could face legal action if they fail to change.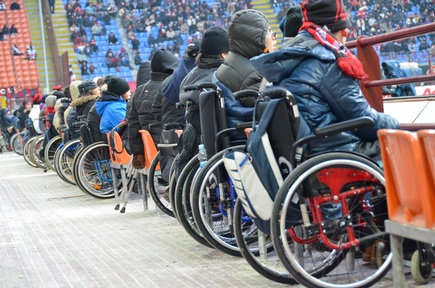 A new report by the Culture, Media and Sport Committee has "applauded" efforts made by many football clubs, rugby league, rugby union and county cricket clubs to accommodate fans with disabilities, but criticised some of the richest sporting organisations in the UK for failing to carry out even basic adaptations.
Damian Collins MP, chair of the committee, said: "When we see examples of good practice at some clubs that are already providing disabled supporters with a good experience when they attend matches, it is especially disappointing that some of the rich clubs are not doing more.
"Sports fans with disabilities are not asking for a large number of expensive changes – only to have their needs taken into account in the way sports stadia are designed and operated.
"It should be considered a reputational risk—and one which sponsors would have to take seriously—if clubs continue to fail to engage with reasonable adjustments and are also therefore actually in breach of the law.
Sanctions for insufficient accessibility
"The Equality and Human Rights Commission has told us that it is minded to start legal proceedings against clubs that continue to flout the law. We support them in this."
While the Premier League suggested that it would consider imposing sanctions on clubs that fail to provide sufficient accessibility, the Committee is sceptical of this actually happening.
The report stated: "Given 20 years of comparative inactivity by the football leagues, the Committee is not convinced that the Premier League would impose suitable penalties on clubs, even for failing to meet building regulations, never mind taking a broader view of the quality of the overall experience for supporters with disabilities."
A spokesperson for the Premier League said that clubs are "working hard" to enhance disabled fan access and facilities and their stadiums.
They added: "The scale and scope of the commitment made by clubs in this area is unprecedented for a single sport or sector, and the timescale is ambitious.
"Following consultation with specialist architects, extensive improvements are being undertaken and rapid progress is being made."
Finances prioritised over accessibility
However, the report indicated that some major league clubs continue to prioritise profits over improving access, even when they have the means to do so.
The Committee has condemned this, explaining it expects the needs of disabled fans to take priority over the clubs' desire to increase profits.
West Ham was highlighted as one of the worst clubs for making adaptations for fans with disabilities, with its changes to the Olympic Stadium resulting in some former wheelchair spaces being allocated for dual use: for wheelchair users or for hospitality facilities and able-bodied supporters.
However, West Ham United said that these spaces "never have, and never will be, allocated to another fan at the expense of a disabled supporter."
The club added: "West Ham United is fully committed to its supporters with accessibility needs and is proud to have more wheelchair user spaces than any other Premier League stadium, with 253 in total.
"The overall quality of the provision means West Ham United lead the way amongst top-flight clubs and remain on course to be one of the first Premier League clubs to achieve all the requirements of the Accessible Stadia Guide."
Some fans are too scared to complain
The report went on to suggest putting an anonymous reporting system in place, after it revealed that those who face barriers attending matches may avoid making complaints for fear of being seen as a "trouble maker" or even having tickets taken away.
An extensive list of ways to improve the situation was also given in the report, many of which are inexpensive and cause little or no disruption to stadia or to fellow fans.
These include disability awareness training for all staff, professional access audits and design appraisals, as well as a full audio descriptive commentary service, the start-up cost of which is just £4,000 per club.
Mr Collins from the Committee added: "It is high time that sports clubs, especially for example those with plenty of resources as in football's Premier League, changed their mindset. This isn't really about money, it's about the will to do it.
"It is in clubs' own interests to pay more attention to the often very moderate needs of such a large proportion of the UK population.
"Most clubs do not sell all the tickets for games, and a reputation for being well adapted and welcoming to disabled supporters should enhance their reputations generally."
While football clubs were highlighted being the least accessible for disabled fans, Lord Holmes of the Equality and Human Rights Commission praised top rugby and cricket clubs.
He said that their attitude was "very positive, very engaging, exactly the right approach that one would want, taking it wider than just the physical access point and a very good result in these two sports."