A great-grandmother who was diagnosed with Alzheimer's disease in 2012 has become a published author of two children's books.
Joan Porter, aged 85, who lives in sheltered accommodation in Bearsden, Glasgow, used to recite the countryside stories to her children more than 40 years ago, and only wrote them down when she became a playgroup supervisor.
With the help from her daughters, the stories were published in October last year and now sit proudly on the bookshelves of her seven great-grandchildren.
Inspiration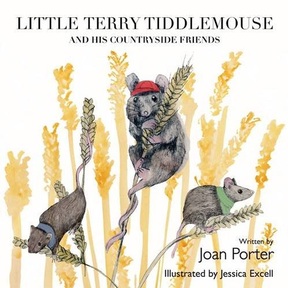 The tales of 'Little Terry Tiddlemouse And His Countryside Friends' and 'Little Terry Tiddlemouse – Time For Tea And Dressing Up' were inspired by Ms Porter's childhood where she was surrounded by wildlife and countryside on the west coast of Scotland. It was there that she developed a love of nature and animals.
The verses introduce a host of characters from the countryside including: Terry Tiddlemouse with brothers Snitch and Snatch who live together happily in their house that's made of thatch, Fergus Frog too busy to drink tea from a cup so drinks it from the spout, and Hector Hog who without his spines would look a lot thinner.
"I made the stories up off the top of my head," said Ms Porter. "I was always keen on poetry and I enjoyed trying to rhyme things. When I became a children's nurse working night shifts on the wards, some of the children would be upset when they didn't have their parents with them so to help soothe them, I would make up stories about the animals I grew up with.
"Then when I had my own children, the stories also became part of their bedtime routine. I would tell the stories about the animals that lived in the countryside and the adventures they went on together."
Legacy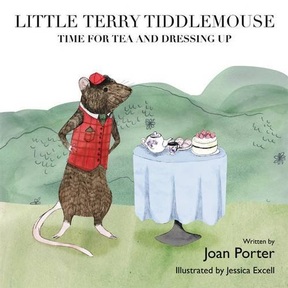 In 1975, Ms Porter became a playgroup supervisor and her well-rehearsed stories about Tiddlemouse were told almost daily.
Children began asking her to repeat stories she had previously recited ("Tell us the one with the camping trip again"), and so Ms Porter put pen to paper and began to write the tales down.
"The children at the playgroup seemed to enjoy them and what is lovely is that a lot of them who are adults now said they remember hearing the very stories I have published. It was because of them I wrote them all down; they kept asking me to tell them again the next day and I would forget which one I had previously told them," explained Ms Porter.
As she grew older and stopped telling the stories, they were stored away in a cupboard and almost forgotten about. While her husband Bill always wanted to see the verses published, life always took the family on to the next step and Ms Porter was always too modest to pursue it herself.
It was not until her daughter, Arlene Harrison, recently came across the tales in the cupboard that she was persuaded to send them to a publisher.
"Everyone always encouraged our mum to get the stories published, but she wouldn't," explained Ms Harrison. "She said she was too busy and didn't think anyone would be interested. She was always too busy running about caring for the family to ever fulfill her own ambition.
"When I first told her we had sent her books off, she kept asking me not to make a big fuss of it and said that no-one would be interested in her ramblings. Publisher AilsaPress came back to say they loved the stories and they brought on-board Jessica Excell to illustrate the tales.
"Now she can't believe that her writings have been made into children's books. It's got her talking about writing more. It's a lovely legacy to leave."
Grateful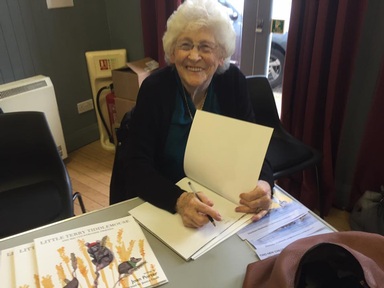 Her biggest fan it seems, is granddaughter Eva, aged just ten-years-old. "I keep looking at Nannie's books and still can't believe she wrote them. I am so proud of her and hope to be a writer someday just like her," she said.
The great-grandmother has also become a celebrity in her local town of Bearsden in East Dunbartonshire.
"I would never have published them myself as I didn't think for a minute they were good enough. I wrote them so long ago, it's hard for me to comprehend they have been made into books.
"My daughter reads them all to me and I get quite overwhelmed by the nice things being said about me and my books. I am just grateful that children are enjoying hearing my stories at bedtime - that is all I could have hoped for."
Coping
Despite living with Alzheimer's Disease, Ms Porter has been attending book signings, visiting primary schools and has recently been a guest speaker at St Andrews University to give the students a talk about living with dementia.
According to her family, publishing the books has given Ms Porter "a new lease of life" who considers herself fortunate to be the age that she is and remain relatively healthy.
Although forgetting which day of the week it is "can sometimes be frustrating", she revealed that she is lucky to have four daughters and lots of grandchildren to help her along the way.
"We often use a whiteboard to write down what I have done that day as well as any important upcoming events that I need to remember. But I don't let my lack of memory ever get to me," she said, "life is too short for that.
"I have lots of ideas for future stories that I would love to write down. I am still in shock I have any ideas but it gives me something to look forward to in the future," she added.
Jaunt for Joan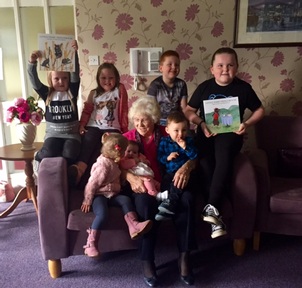 The book came into being thanks to Ms Porter's daughters, who wanted to celebrate their mother's life and make sure her tales, which recollect their happy childhood, were published.
Ms Harrison commented: "As a mother, it is very special for my sisters and I to witness mum finally accomplishing her lifelong ambition of having her verses published. She has always put her family first and supported us in all we endeavoured to do, it's just lovely for us to be able to support her now doing something for herself.
"We have always been proud to say she is our mother and now is no exception. The way she copes with her Alzheimer's on a daily basis is incredible and her positive attitude towards life is contagious.
"She really is wonderful - she never lets her dementia stop her from doing anything. She is proof that being a pensioner and having dementia shouldn't get in the way of fulfilling your dreams."
A sponsored walk has been organised in honour of Ms Porter's courage and determination, which is due to take place in Spring this year. The four-day, 96-mile walk will begin in Milngavie on the 26 May and end in Fort William on the 29 May.
Her daughter, grandchildren and friends of the family are hoping the challenging walk, averaging 24 miles per day, will raise funds for the charity Alzheimer Scotland, as well as awareness of the disease which currently affects more than 850,000 people across the UK.
For more information about the event or to donate go to: www.justgiving.com/crowdfunding/jauntforjoan
Ms Porter's first two books in the series were released in October 2015. A third book is due out later this year. For more information visit: www.ailsapress.com.