It is no secret that the care sector is dominated by women, with men making up just 15.3 per cent of the workforce, according to the last UK census.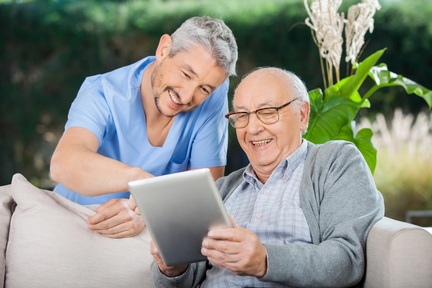 One of the problems is that with men living longer, more male care workers are needed to give them personal care, according to Martin Green, chief executive of Care England.
Skills for Care suggests the sector needs to "widen the demographic pool" from which employees are found in order to meet the growing demand for care workers.
Not seen as a 'masculine job'
Rhys Chandler, a senior care coordinator for Nurse Plus, believes that the lack of men in social care is because it is not seen as a very 'masculine' job.
Starting his career as a health care assistant at a residential home, Mr Chandler explained that he has always been a very hands-on person and wanted a job where he could be on his feet all day while also giving something back.
He said: "People have this idea in their head that a carer is someone who goes around to people who are stuck in bed and it's only providing them with personal care, washing, dressing, changing pads, cleaning faeces; it's not like that!
"As a carer it's your job to encourage people to be independent and support themselves.
"You get to know the people you're visiting and build up a good working relationship. Most of the people are able to have a laugh and a joke and it is a really fun job."
Alex Wilkin, a care worker for the Caremark group, agreed that the image of social care being a 'woman's' job can put people off pursuing a career in the sector, saying: "They are probably apprehensive over coming into social care due to it being predominantly a female role."
'It really gives you a good feeling inside'
There is still that assumption that women have that 'maternal instinct' making them naturally more caring. However Martin Green believes the skills and core values required for the work – such as empathy, compassion and respect – can just as easily be found in men as they can in women.
While the care sector may have a very 'feminine' image, Matthew Carter, who has worked for Caremark for almost five years, told homecare.co.uk he was not put off by the workforce being predominantly female.
"I had worked in similar environments before and enjoyed those," he explained.
"I am unsure why there are so few men working in social care as it is such a fulfilling and satisfying job.
"You feel like you are making a difference to people's lives every day, it really gives you a good feeling inside."
Female clients too 'embarrassed' to receive personal care from a man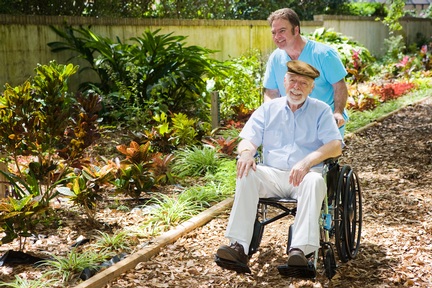 A recent drive by Cambridgeshire County Council to recruit more male care workers found, in Cambridgeshire, the shortage was due to the preferences of people receiving the care and their families, rather than a lack of male applicants.
One of the main issues around employing male care workers stems from the personal care aspect of the job and some clients feel uncomfortable receiving this type of care from a male care worker.
Mr Chandler said that when clients express a preference for a male or female care worker, it "completely varies on the person as to why."
He added: "Quite a lot of female service users would prefer a female carer as they are embarrassed to have assistance washing from a male. The same goes for a male service user; they can often also be embarrassed in front of male carers and can request female carers."
Male care workers offer variety and choice
Nicholas James, who also works for Nurse Plus, has had similar experiences but believes that customers can feel more comfortable receiving personal care once a strong relationship has been built.
"Some clients have declined personal care. This may or may not be due to gender; it has not been expressly given as a reason," he explained.
"This position has sometimes changed after a working relationship has developed and I believe our office has tried to match me with clients who are comfortable with male care workers."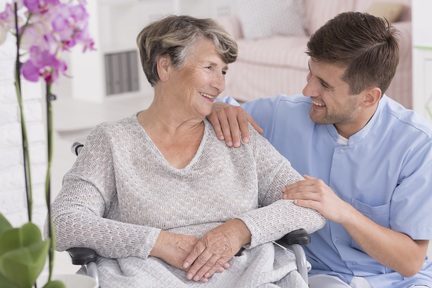 He believes it is important for clients to have the option of either a male or female care worker for a variety of reasons, including general preference for a care worker of the same gender, as well as a culture or belief-based preference.
Mr Wilkin, who works for Caremark, echoed this, saying: "It is important for there to be male care workers to give clients choice and attract different personalities."
Male care workers can also "give some variety to the job" and male clients "may feel more comfortable talking about certain subjects with another male."
Female clients may also prefer the company of a male care worker as Mr Chandler at Nurse Plus has experienced, with some "jumping at the opportunity for a male to come and visit them."
'When do you ever see a man on an advertising leaflet?'
It is clear, then, that there is indeed a demand for men in social care.
But the issue remains of how to attract them into a career in the sector.
Mr Chandler flagged up the issue of media representation, questioning: "On advertising leaflets when do you ever see a male carer?" while Mr James, who worked in carpentry and fabrication before becoming a care worker, suggested: "Clear information needs to be in the public domain and perhaps tackling misconceptions.
"Targeting males in recruitment drives and at education establishments could also help."
Martin Green believes more needs to be done to ensure "every school understands that care career paths are for men as well as women, they could portray more men in Government information on care roles, and they should put more emphasis on reaching out to men when they advertise care role vacancies."