People must consider looking after their parents, just as they do their children, David Mowat, the minister with responsibility for social care, has told MPs.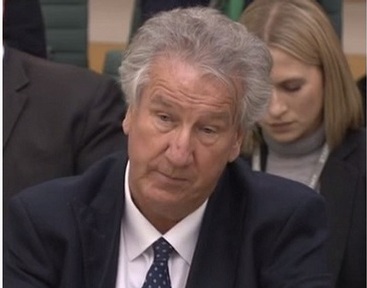 Speaking to the House of Commons' select committee on Communities and Local Government, Mr Mowat called on people to: "Start thinking as a society how we deal with care of our own parents."
Addressing the committee on 30 January, which had gathered to discuss the financial sustainability of social care, Mr Mowat said: "One of the things that has always struck me, as I've been doing this role, is the fact that nobody ever questions that we parents look after our children. That's just obvious.
"Nobody ever says that's a carer's responsibility, it's just what you do."
Referring to the growing number of people requiring social care, he added: "I think some of that logic and the way that we think about that in terms of the volume of numbers that we've seen coming down the track will haveto impinge on how we look after our parents."
MPs on the committee referred to an increasing demand for adult social care across the country, highlighting figures from Norfolk County Council which revealed demand for adult social care had gone up by 46 per cent in the last five years.
Mr Mowat also said one indicator of increased demand for care was the number of care staff employed.
"Since 2010, the number of people working in care has gone up by about 150,000 – full time jobs in the care system."
When asked about the level of social care funding offered by the Government, he said: "There is a real term increase, during the course of his parliament. That is a fact."
The junior minister's comments comes as the Local Government Association (LGA) warns today that councils are in danger of being in breach of the Care Act, unless the Government gives more money to fund social care.
Risk of Care Act failure
The LGA, which represents 370 councils in England and Wales, says the legislation that sets out how elderly and vulnerable people receive care and support, will fail unless the Government announces new money.
In its submission to the Treasury ahead of the Spring Budget, the LGA, says the continued underfunding of social care is making it impossible for local authorities to fulfil their legal duties under the Care Act, leaving it on the brink of failing altogether and councils facing the prospect of court challenges.
In its Budget submission, the LGA is also calling on government to set out contingency plans to deal with major failure in the care provider market, with the lack of funding already causing some providers to hand contracts back to councils or cease trading altogether.
The Care Act, which passed into law in 2014, aims to give people more control over their lives and allow them to stay well and independent for as long as possible, placing a duty on councils to promote people's well-being.
Chairman of the Local Government Association's Community Wellbeing Board, Cllr Izzi Seccombe, said:"But the intentions and the spirit of the Care Act that aims to help people to live well and independently, are in grave danger of falling apart and failing, unless new funding is announced by government for adult social care.
"It is not good enough just to be trying to help someone get washed and dressed.
"Adult social care is about much more than this. It is about aspiring to help people live their lives to he fullest, and with dignity, not simply just get by. This is the great strength of the Care Act, which unfortunately is now at risk.
"If no new money is urgently announced, then government needs to be honest and upfront with the public about the limitations of the care and support we can provide, and the fact that as a society we will no longer be able to meet the ambitions and objectives of the Care Act."
The LGA highlighted the issue of care providers pulling out of the publicly-funded care market or going bust, growing unmet basic needs such as getting washed and dressed, shorter care visits, an overstretched workforce with an increasingly high turnover, greater pressure on GP surgeries and hospitals and more people stranded in hospital unable to leave.
Just eight per cent of directors of adult social care in councils say they are confident in their capacity to meet the full duties of the Care Act in the coming financial year, according to the latest ADASS budget survey.
The LGA estimates the overall funding gap facing social care remains at least £2.6bn by 2020, after the Government failed to announce new money in the Autumn Statement and Local Government Finance Statement.