People looking for a home care agency in Google search results, can now see at a glance, an agency's rating and how many reviews it has.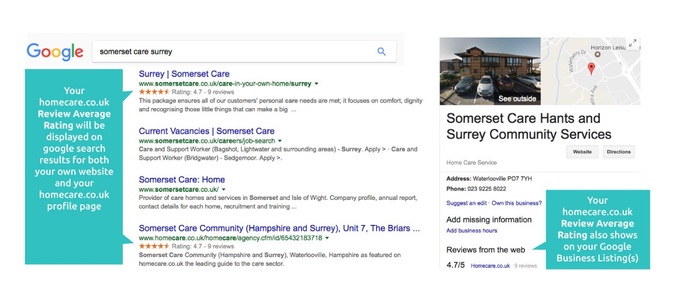 Looking for a home care agency for a relative or friend can be a time-consuming and arduous process, for people who are often leading busy lives trying to juggle care, with the stresses and strains of looking after a family and holding down a job.
People obviously want a home care provider that has been judged to be of a good standard by care watchdogs such as CQC, the Care Inspectorate and CSSIW.
However they will also want a home care agency with warm and caring home care workers they can trust. The only way of finding this out is to ask people who have used the agency.
homecare.co.uk teams up with Google
Now homecare.co.uk, the leading home care agency reviews website, has made things even easier, by teaming up with Google so people can quickly see a home care provider's average review rating.
Oli Blackwell, technical director of homecare.co.uk, said: "We are very pleased to take advantage of a recent Google update that enables service based businesses such as home care agencies to use their reviews from third party review websites, like homecare.co.uk, to generate a rating against their own listing in Google's search results. We expect to see a significant impact to the Click Through Rate, for home care providers which enable this feature."
The best way to find out the quality and standard of a home care provider is to ask the people who use it. homecare.co.uk features reviews from the people who have home care as well as their friends and family, giving a clear and accurate picture of an agency in terms of its staff, quality of care and whether people are treated with dignity.
There are currently over 3,600 reviews of home care agencies on homecare.co.uk making it the go to site for anyone looking for home care.
Trust factor
For home care providers, having their agencies given star ratings by Google, is a definite bonus. As many people now search for home care online, the first place they will look is Google. Highly rated home care agencies on Google can expect to get more traffic than those with no ratings due to the trust factor.
Home care providers can ensure their agency gets these valuable star ratings by using homecare.co.uk's review widget which also displays their latest homecare.co.uk reviews on their own website.
Mr Blackwell added: "The widget is very quick and easy to add to your website, and once embedded on your website the widget will automatically display your latest new reviews. Groups can create separate review widgets for each of their locations on their website."
'People need to be clear about options available'
Saskia Pearlstone, marketing co-ordinator for Somerset Care, was the first home care provider to trial the widget and the integration service with Google. She said: "Using the review widget was a straightforward decision for us. We offer home care in the south of England, enabling people to stay in their own homes and it is important that people are clear about the options available to them.
"Enabling people to easily see how our home care agencies have been rated goes with the whole ethos and values of Somerset Care which are customers, care and candour.
"It is absolutely vital that there is a system for people to review the provision that they are part of."
Once the homecare.co.uk review widget is embedded on the care provider's website, Google will then display their homecare.co.uk average review rating.
The rating displayed in Google search results, which is out of five, uses part of the care provider's homecare.co.uk review score.
The homecare.co.uk review score which is out of 10 is based on the average rating out of five and the number of positive reviews out of five.
For more information on homecare.co.uk's review widget go to www.homecare.co.uk/reviews/widget/