Charity encourages people to 'make it your decision' and record wishes in case tragedy strikes
08-Feb-17
Article By:
Charley Walker, News Editor
A new campaign, Make It Your Decision, is urging people to prepare for the unexpected by planning ahead for medical treatment and care.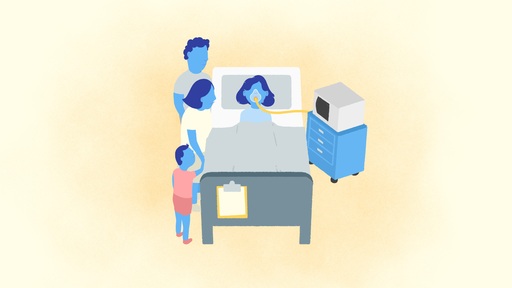 Launched on 8 February by Compassion in Dying, the campaign encourages Brits to record their medical wishes in an Advance Decision, following research that a third of people are concerned about the care they'd receive should injury or illness leave them unable to make such decisions in the future.
The research also revealed that a fifth worry that they would receive treatment that they otherwise would not want.
Usha Grieve, director of information and partnerships at Compassion in Dying, said: "No one includes a serious accident or illness in their plans for the future – but fortunately there are things you can do now to prepare.
"By recording your wishes while you are well and able, it means that if the worst does happen, what's important to you will be known, respected and followed.
"What's more, it's easy and free and can be done with support at your own pace, without the need to involve a lawyer."
Research carried out by the charity, which supports people at the end of life to have a 'good death', found that over a third of those surveyed would trust their family to make decisions about their treatment and care.
But without an Advance Decision or a Lasting Power of Attorney for Health and Welfare, families have no automatic right to enforce their loved ones wishes, with decisions being taken by doctors in the best interest of the patient.
Ms Grieve from the charity added: "Having your wishes recorded will give you and your family peace of mind that they won't be left stranded if you become unable to say what you want.
"Your doctors won't be left to make decisions without knowing what you would or wouldn't have wanted. Quite the opposite – by recording your wishes in a legally binding way, you can make it your decision."
Also known as a living will or advance directive, an Advance Decision (to Refuse Treatment) allows someone to make a legally binding record of the treatment and care they would and would not want, should they become unable to voice their opinions on the matter due to a life-changing illness or injury affecting their mental capacity.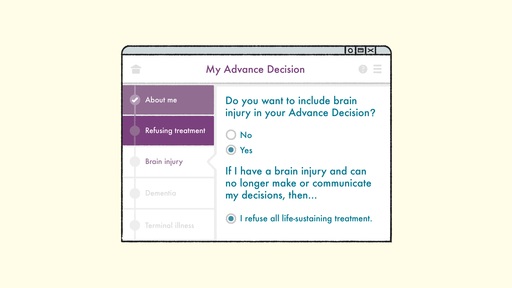 The charity's Make It Your Decision campaign is the first to focus solely on encouraging people to "think about the unthinkable" and consider what they would and would not want in case of the unexpected.
In addition to a new animation and website, every GP surgery in the country will receive campaign posters which underline the importance of planning ahead for care and treatment.
The campaign is backed by Lindsey Briggs, whose husband was left in a minimally-conscious state following a motorbike collision in 2015 at the age of 42.
"We all knew what Paul's wishes would have been – that he wouldn't have wanted to be kept alive in that state – but we were powerless to do anything about it," Mrs Briggs explained.
"Paul hadn't written an Advance Decision, which would have given doctors instructions to respect his wishes and withdraw life-prolonging treatment.
"You assume as someone's wife of 15 years that you'll be able to speak for your husband, but that's not the case. It's shocking to find that you can't."
On 20 December 2016, the Court of Protection ruled that Mr Briggs could lawfully be taken off life support and moved to a hospice where he would receive palliative care. He passed away on 21 January 2017.
Mrs Briggs said: "I just hope our tragedy can have some positive impact – to show people how important it is to record your wishes when you're fit and well, as accidents can happen to anyone."
To view the campaign website and watch the animation, go to: www.makeityourdecision.org.uk