Broadcaster Dame Esther Rantzen's husband Desmond Wilcox died of a heart attack in 2000, but 17 years on, the 76-year-old says her cure for loneliness is keeping busy to stop older people feeling alone.

"It's very difficult when you've had a relationship as I've had with Dessie, because other relationships and other people you can't help comparing them, even if you don't consciously.
"There is a hole in your heart which is that shape. I thought he was more talented than me. He was more energetic than me. He was more generous than me."
Describing him as "my mentor" at the BBC, she says: "There was so much in our relationship. I was learning from him. He had a terrific sense of humour. It's difficult to find somebody with so many qualities that I admire."
Esther Rantzen is one of countless older women across Britain living with the death of a partner but her personal struggle with loneliness has spurred her on to help others in the same situation. Thirty years ago this year, she founded Childline, a helpline aimed at protecting children from abuse which has helped 4.5 million children. But her decision to set up a helpline for lonely, older people in 2012 called The Silver Line, has proved to be another valuable lifeline for the people calling it.
Esther is quick to drop in an impressive line of statistics that reveal The Silver Line's success. "We're answering something like 1,600 calls a day. We have 3,000 volunteers. Always need more. We have a waiting list.
"What people do is make a phone call a week from their own home. We make the call so they don't have to pay for it. It becomes a real friendship. So those 3,000 people are actually helping more than 3,000 callers because some of them enjoy it so much they help more than one. We've got about 100,000 callers, who call us regularly."
Recalling one Silver Line caller, she says: "This lady goes out once a week to a bridge club. She said: 'they wouldn't notice if I didn't turn up'. What she's suffering from is a total loss of confidence and she's terribly depressed and it feeds into each other. As she gets lonelier she feels more worried and anxious about what would happen if she went out, would anyone want to know her."
'Quite soppy'
With a tendency to feel her tears well up on live television when she reads a letter from a lonely person, does this make Esther Rantzen well-placed to champion other people's struggles because she feels their pain?
The broadcaster says "As an interviewer what I've always enjoyed is in that conversation understanding what it feels like in the other person's skin. I do think I'm probably quite soppy. I do wear my heart on my sleeve a bit. I realised from the letters I received how desperately lonely some people are. That's what inspired me to launch The Silver Line and get a team around me that could really make it work."
Her cure for loneliness: Exhaustion
But could beating her own loneliness be Esther's greatest challenge? With a busy schedule, she is out and about during the working week visiting television studios to discuss issues impacting older people but her evenings and weekends are more free.
Esther downsized from the house she shared with her 'Dessie' six years ago to move into an elegant yet cosy flat in North West London. A comment she's made in the past goes: "I have plenty of people to do something with but nobody to do nothing with", so does she still feel lonely?
"There are various cures for loneliness. One is company of people you care about. I have many phone conversations with friends during the day. I see as much of my family as I possibly can…thank goodness for Facetime.
"I think exhaustion helps. So, I will come home at the end of the day, sit on the sofa, fall asleep. Then wake up then think oh my lord I've got to go to bed and stagger upstairs. The time when I feel lonely now, is when I'm thinking about a holiday or going to the theatre or having fun of some kind and not having Dessie with me."
Days before her husband Desmond died, he told Esther to promise him they would return to their favourite holiday destination St-Paul-De-Vence every year, even if only one of them was alive. Esther has kept that promise and this June she will return to the little town that they loved in the South of France with her children and grandchildren.
Keeping active
Unlike Esther Rantzen, many older people seldom see families and friends and live isolated lives. As a well-known figure, she stands out from a growing ageing population of people who are seen but not really heard.
As she makes a coffee in her kitchen, the 76-year-old is impeccably dressed. A slim figure in vibrant colours, she laughs at the suggestion that she looks good. "You know whatever my age I've never been particularly impressed with my appearance. I think I've done the best one can, given what God provides."
But as many people over 60 are encouraged to exercise to maintain physical health and wellbeing, does she take the time to work out? "No certainly not", is her quick reply. "But I do get a bit worried about the amount of time I spend sitting down. My grandsons never really sit down. They run or stand or squat.
"I find if I drive to a meeting, sit in a committee all day, come home, watch television, I'm really sitting down nine tenths of the day." Standing in her kitchen she muses: "Maybe the chair is the most dangerous invention."
Love after 70 vs 'everybody's grandmother'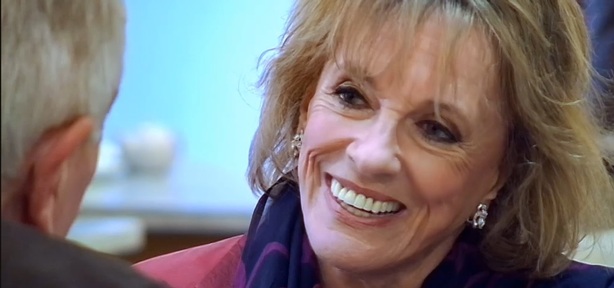 If exercise isn't her new year's resolution, will 2017 see her seek a new person to love?
Esther says: "I've been to dinner parties where I've met somebody and we get on terribly well. But for me I didn't want to take it any further. Maybe I think I'm everybody's grandmother. I'm in the wrong mindset."
A dinner date with a lawyer on Channel Four's programme 'Celebrity First Dates', led to her date telling her: "For a lady of your advancing years you make splendid company". But she's more than thankful for the way her years are advancing.
"I've still got my health, so I can still get out and about". Only too aware that many Silver Line callers are disabled and can't leave their homes unaided, she adds: "As one of the callers said to me 'I'm in solitary confinement'."
Grandmother's companion
Thinking back to her grandmother's decision in her 70s to recruit a companion, she says: "My grandmother was paying this lady. She was being housed and fed by my grandmother. It wasn't an equal relationship but at the same time it mattered that they enjoyed playing Patience together. They went shopping together, they watched television together. She was never alone."
Keen to stress what good care is about she says: "People doing 15-minute home care visits is neglectful."
She adds: "I spoke to a Silver Line caller at Christmas who said that the agency supplying home carers didn't actually supply them even though the local authority was paying for them and most recently sent men on their own to her, which she found quite intolerable and she wouldn't accept that."
Home care workers are 'ambassadors'
But she believes home care workers are well-placed to throw older people a lifeline.
"All your readers need to know that The Silver Line helpline is free, confidential, open 24/7. When they visit people who are on their own, champion it for us because we know that it's a big step that first phone call but it really does make such a difference for people to have the opportunity of feeling valued. It's about sharing experiences, having a laugh, sharing memories, talking about their feelings.
"If carers can get onto our website, get hold of our leaflets, take them with them to people's homes, spread awareness. We need homecare.co.uk's carers to be our ambassadors."
The Silver Line helpline number is 0800 4 70 80 90.