For many people, growing old can be a daunting prospect, with loss of mobility and general frailties meaning that extra help and support might be needed for day to day tasks. Some may feel that this leads to a loss of dignity and independence, but for lesbian, gay, bisexual and transgender (LGBT) people, this can mean a loss of identity too.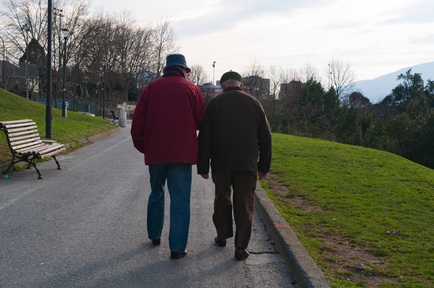 It is estimated that between 871,045 and 1,219,470 of the LGBT population in the UK are over the age of 65 and research suggests that when it comes to health and social care, this group is marginalised and their life stories, history and family are less valued.
Tina Wathern from Stonewall Housing on Behalf of the LGB&T Partnerships says: "Being LGBT profoundly matters in the delivery of care and support services.
"At the moment, there is no simple answer as to how older LGBT people can access the most appropriate care and support. There are, however, reports of older LGBT people having to go back into the closet in order to be admitted to care homes, or being denied admission to care homes because of their sexuality."
In addition to this, older LGBT people report not having their partners acknowledged as next of kin and many have faced both deliberate and unintentional discrimination and abuse by health and social care staff they have encountered.
These are people who lived through times when identifying as LGBT had serious consequences, such as being arrested, defined as mentally ill, or losing a job.
James Taylor, head of policy at Stonewall, says: "Many older lesbian, gay and bisexual people feel they are invisible and are extremely fearful of how they will be treated by care staff."
He adds that they may feel that the rights and protections they fought hard for no longer apply.
'LGBT people may be estranged from their siblings and biological families'
Social isolation is a serious issue for older LGBT people. According to Stonewall, older LGB people are more likely to be single, while 41 per cent live alone compared to just 28 per cent of heterosexual people.
Openly identifying as LGBT can result in a loss of family ties and support, which is a real issue for many older members of the LGBT community.
Less than a quarter of LGB people see their family members at least once a week compared to more than half of heterosexual people, while one in eight LGB people see their biological family members less than once a year compared to just one in 25 heterosexual people.
In a survey conducted by the charity Stonewall, one respondent stated that they "would like to think that my daughter will speak to me again. My two grandchildren (eight and four) don't know me," while another revealed: "I find that I sometimes view those with children a little enviously, as having a support in old age and partner-bereavement that I will not have."
To add to this, there is also the issue of partners and families of choice not being appropriately acknowledged by health and social care professionals.
This is a concern for Jean Friend, a member of the Older LGBT group run by Age UK Oldham, who says: "My one constant fear has been going into hospital and my partner not being recognised as my next of kin. Thankfully this didn't happen when I had cancer three years ago but I do know it does still happen and needs to be taken on board by the NHS."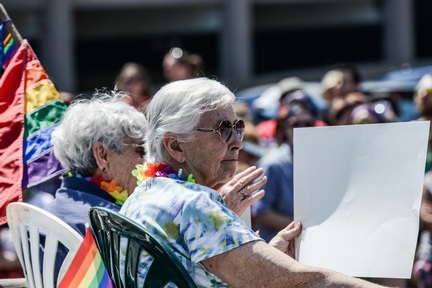 Derek Andrews, who runs Eastbourne Rainbow, an over 50s LGBT group which is part of Age Concern Eastbourne, adds: "Older LGBT people face social isolation, loss of friends as we get older and concerns about health leading to a loss of social life.
"LGBT people usually do not have children and they may be estranged from their siblings and biological families.
"They have to then rely on a support network of friends who themselves are getting older."
However, findings by Stonewall revealed that there are a number of older LGBT people who have next to no support network, as one person explained: "I didn't come out until my late 40s so didn't have a chance to build up my network of lesbian and gay friends."
This can mean having to rely more on social care and community support than their heterosexual counterparts.
While there is currently a lack of support of this kind for LGBT people, Manchester City Council recently revealed plans to create the UK's first LGBT majority extra care scheme.
Age discrimination 'quite a problem' within the LGBT community
Community groups and projects to build an older LGBT person's support network and combat the issue of isolation are hard to come by; a search on Stonewall's website for LGBT specific services for older people yields just eight results.
Mr Andrews explains: "It takes a lot of hard work, time, energy and effort to set up and run a group sometimes with very little thanks.
"If you are going to apply for funding then you need to identify a source, make applications, set up a committee, and find somewhere to meet.
"Eastbourne Rainbow is part of AGE Concern Eastbourne so that gives us somewhere to meet. We can't fundraise separately.
"Older LGBT is not seen as being 'sexy' by some so we can become invisible. The gay world is very orientated to being young and good looking."
Maria Hughes is the network enabler for Birmingham LGBT's Ageing Better LGBT Hub which provides support and information to LGBT people over the age of 50 in Birmingham, and she echoes Mr Andrews's feelings that age discrimination within the LGBT community is "quite a problem."
"The LGBT 'scene' tends to be for younger people: older people feel pushed out and they don't want to take part in the same activities," Ms Hughes explains.
"Research conducted by Ageing Better LGBT Hub/Birmingham LGBT in 2016 elicited the following fears about ageing in the LGBT community: Emphasis on youth as being central to participation in LGBTQ+ communities; LGBT places tend to be aimed at young and able-bodied people; fears about being seen as 'past it' or not interesting to the community; pressure to look young/thin/perfect; and feeling too old for pubs or clubbing."
Hope for the future?
But while younger LGBT generations tend to face fewer issues than older LGBT people experienced both in the past and present, discrimination still exists, and members of the community and those who work with them are unsure about how this will play out in the future.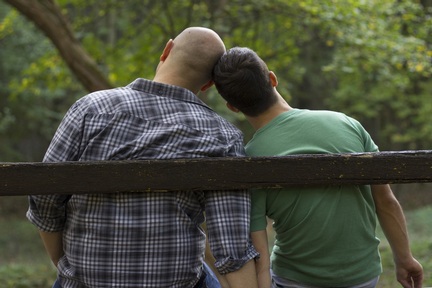 Mr Andrews says: "Hopefully younger generations growing up will not have these problems as there is more visibility and more people know someone who is LGBT.
"The younger LGBT community seems to have a greater self-confidence and will expect to be treated with respect like everyone else if and when they need care. Changes in legislation such as civil partnership have also greatly helped our relationships be recognised.
"But acceptance is not guaranteed and there is still a lot of prejudice and changes in society's attitudes could happen due to political groups promoting an anti-gay agenda."
This is reiterated by Tina Wathern, who says: "Whether this will remain the same for those younger LGBT people as they age is subjective and dependant on how society moves forward.
"Undoubtedly those younger LGBT people will have aged in a society where they are not silent about their needs and protected by a level of legislation that was not available to older LGBT people."
Ms Friend adds: "With the political climate the way it is I am not holding my breath."