Older people and those with disabilities living at home are being hurt the most by rising line rental prices says Ofcom.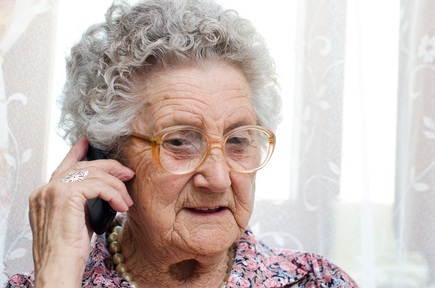 Line rental prices rose by as much as 49 per cent for some customers between December 2009-December 2016, research by the telecommunications watchdog reveals - and of those with standalone landlines at home, 71 per cent were aged 65 or over.
The price of landline line rental increased, despite a decline in wholesale costs, according to Ofcom's research into pricing trends in the communications market.
Ofcom's first Access and Inclusion report, published this week, looked at whether the communications market is delivering for vulnerable consumers and highlighted the crucial part a landline plays in the lives of older people, especially if they cannot easily leave their homes because of frailty, disability or illness.
The regulator is currently consulting on plans to cut bills by at least £5 per month for BT's landline-only customers, who make up 80 per cent of the landline-only market.
In the UK, 14.3 million people are aged 60 or over and 2.9 million are aged 80 or over. From 2012 to 2032 the populations of 65-84 year olds and the over-85s are estimated to rise by 39 per cent and 106 per cent respectively.
Older people less likely to understand their bill or shop around
Ofcom's report also revealed older people were more likely to find it hard to understand their bills than younger people. It noted the number of choices in the telecommunications market overall has increased as well as its complexity and older people are less likely to shop around to find the best deals.
Ofcom's report stated: 'Over-65s are less likely than younger consumers to engage, in some communications markets e.g. to shop around, negotiate with existing providers or switch, and are therefore less likely to benefit from choice. A consequence is that they are more likely to be on standard or 'list' prices and not benefiting from discounts available.'
Ofcom said it wants to ensure all consumers are aware of the choices available to them, its report stating: 'In our consultation on the retail voice-only market, we outline potential options to increase engagement among landline-only consumers.
'Options include providing information to consumers about the potential saving available to them based on their usage, or information about what they need to do in order to switch provider.'
Older people are getting more tech savvy
On the positive side, Ofcom reports older people and those living with disabilities are becoming more tech-savvy by making greater use of computers, smartphones and tablets. Access to these devices has risen by 16 per cent from 2014 to 2016.
Internet access among disabled people has also increased from 65 per cent in 2014 to 79 per cent last year. However, that still leaves one in five disabled consumers who are not online and are 'much more likely than the population as a whole to face exclusion issues as a result of not being online'.
To view the Access and Inclusion report 2016 visit: www.ofcom.org.uk/__data/assets/pdf_file/0030/98508/access-inclusion-report-2016.pdf