Care providers have cancelled contracts with 95 UK councils due to a lack of funding, an investigation has found.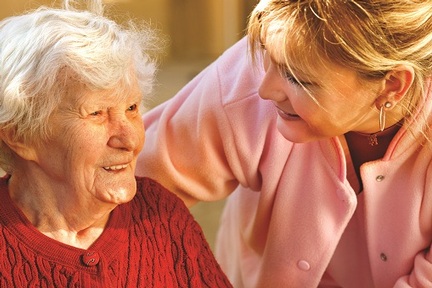 BBC Panorama found that agencies were "struggling" to deliver the care required with the funding offered, forcing them to end their contracts.
It found that one in four home care providers were at risk of insolvency and almost 70 had closed in the last three months.
The figure for the number of cancelled contracts comes from a Freedom of Information request, which was responded to by 197 of 212 UK councils.
The Local Government Association (LGA) suggests it is the result of "historic under-funding," the National Living Wage and an ageing population.
'Brink of collapse'
Chairman of the LGA's community wellbeing board, Cllr Izzi Seccombe, said: "We have warned that the combination of the historic under-funding of adult social care, and the significant pressures of an ageing population and the National Living Wage, are pushing the care provider market to the brink of collapse. These figures show the enormous strain providers are under and emphasises the urgent need for a long-term, sustainable solution to the social care funding crisis."
She added: "The LGA has led a national effort to highlight the huge pressures facing adult social care and secure £2bn of significant new Government funding for the system over the next three years. The £1bn councils will initially receive this year, followed by £674m in 2018/19 and £337m in 2019/20, represents vital funding for services caring for the most vulnerable in our communities over the next few years.
'Starting point'
"However, this is just a starting point and there currently remains a shortfall in the projected social care funding gap. There is already an expectation that the money will reduce the immediate pressure on the NHS. But it is desperately needed to protect vital support services, like home care, ensuring older people and those with mental health conditions, learning and physical disabilities live dignified and fulfilling lives.
"With councils facing further funding pressures and growing demand for support by the end of the decade, this is the last chance we have to get this right."
Recruitment and retention
According to research carried out by Opus Restructuring and Company Watch, many home care providers say their biggest problem is the recruitment and retention of carers.
To cope with growing demand of an ageing population, it has been estimated that at least two million more carers will be needed by 2025 in England alone.
Home care company Cymorth Llaw, in Wales, told Panorama it was forced to hand back its contract with Conwy council because it felt unable to provide adequate care with the council's funding offer of £15 per hour.
Ken Hogg, co-director of the company, said they always paid employees above the national minimum and living wage, but with pension contributions, National Insurance and training - among other costs such as mileage and travel time - the amount the council were paying "doesn't leave a great deal."
Unworkable pay and conditions
Last year, Mears Care Ltd also served notice to both Liverpool City and Wirral councils for offering new rates that would lead to unworkable pay and conditions for care workers.
Liverpool City Council made a proposed change to the hourly rate of just £13.10 for home care, while Wirral Council offered £12.92. The proposed charge rates fell short of the minimum £16.70 recommended by the United Kingdom Homecare Association (UKHCA), which represents the care industry.
Executive Director Alan Long previously said: "Our top priority is to provide a quality service to people requiring care with well-deserving staff being paid a decent wage.
"The new rate is in direct conflict to these objectives and values and, while we have sympathy for the financial pressures on local authorities, we have no sympathy for any council that is bullying providers into operating illegally.
"The people who will suffer the most are those receiving care and that is completely and utterly unacceptable."
Short-term stability
Colin Angel, policy and campaigns director at UK Home Care Association (UKHCA), added: "BBC Panorama has produced quantifiable evidence of home care providers handing back unsustainable contracts to local councils. Their research adds to the body of evidence that the state-funded care sector has been compromised by inadequate funding.
"The Chancellor's Spring Budget offers £2bn over the next two years. This will provide some short-term stability for the sector. However, we need to be sure that councils will pass this funding to front-line care services. Government must also finally make a decision about longer-term funding of care and ensure that the population know what the state will fund and what individuals will need to pay themselves."
'Britain's Home-Care Crisis' aired on BBC One on 20 March.