Providing home care can be a vocation that people choose early on in their working life, because it's a role they want to do and it fits with their lifestyle.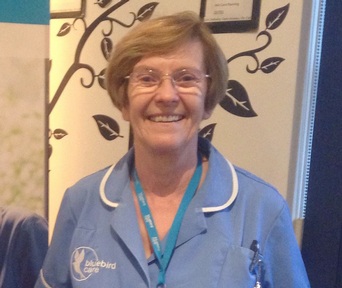 Chris Fyfe is an exception, as someone who spent over 30 years working as a pub landlady until she retired. Once retired, Ms Fyfe realised that she wasn't ready to give up working life and applied to become a care assistant at Bluebird Care (Hook) to care for people in her local community.
How long have you been working as a care assistant?
I've been in my role now for six years, working on a part-time basis, visiting clients in the Basingstoke and Tadley area. I see four clients on a regular basis, but get to meet and see many more, and get to know their ways and needs.
Why did you decide to become a home care worker at the age of 60?
I ran pubs for over 30 years with my husband, with my emphasis on the catering side of things. The hours are very long, we had been successful but it was time for us to make time for ourselves and the rest of the family.
After I'd sold my pub and retired, I soon found out retirement did not suit me. I went to the job centre, printed out a list of jobs and a lot of them were care worker jobs. I applied to Bluebird Care (Hook) and one of the directors, John Prendergast interviewed me. I was impressed he carried out the interview, as the personnel lady was on holiday. I thought, that this was a good thing to do as I always helped my mum, who was 88 at the time. Little did I know how rewarding this was going to be
For a short time you left Bluebird Care and worked in a care home, why did you decide to return to Bluebird Care?
I took the job at the care home to alleviate the travelling. I enjoyed looking after the people in the care home but unfortunately, it was understaffed, therefore I was not able to do my best caring. When the manager at Bluebird Care (Hook) Lynn Dixon asked me to re-join the team, I jumped at the chance.
It is far more rewarding helping people in their own homes. I was able to go back to supporting many of the same people I cared for before and many new ones. I am fortunate enough to have a few regular customers, and also care for others in the area I am assigned.
Do you visit people with a range of needs, or is your role focused on specific care needs?
I provide care and support for people ranging from the age of 41 to people in their 90s, including those with Parkinson's, dementia, Motor Neurons Disease, physical disabilities and I also provide end-of-life care.
There are so many types of care to provide for, which makes no day the same, and very interesting. Washing, dressing, feeding, providing drinks, medication, personal care, hoisting, companionship, shopping, taking people to appointments to name a few. Some tasks are a little unsavoury, but once completed the satisfaction is that they are clean, dry and left comfortable. The travelling between customers is a time to complete in my mind the previous customer and prepare for the next one. We are now lucky enough to be paid travel time.
People have a variety of problems, some physical, some mental which adds to the caring challenges. One of the satisfying thing is getting to know customers, learning what they need and how they like to be treated. Communicating with fellow care workers and with the team in the office (who have all been carers themselves), I feel I can learn initially about a customer and keep up with any changes as they occur.
What is the best thing about your role?
I enjoy knowing that I'm making a difference, putting a smile on people's faces, meeting people, learning what they need to make their lives more comfortable and enjoyable, keeping them as healthy as can and giving them everything they need.
The thing that surprised me most was how many people are requiring care in the home and the variety of needs. Sometimes travelling distances in a short time and being late can be challenging, but Bluebird Care listen and move things around where possible.
They also gave me the opportunity to further my new career in providing a course in dementia and also supported me whilst I took and passed my QCF Level 2. Every year there are refresher courses that need to be done which are all organised by Bluebird Care (Hook). There is support at all times if problems occur.
Another plus to this type of job is being able to state availability, therefore you can work part-time or full-time depending on how it fits with your lifestyle.
How do you think your life experience has helped you in your role as a care assistant?
It's definitely benefited me, as my job was all about people, listening, chatting, understanding people, and making their visit to my pub relaxed and enjoyable.
I never considered becoming a care worker before, it had not crossed my mind. My only regret is that I did not follow this line of work earlier in my life.
What would you say to anyone looking to take up a role in care?
If you like people, helping them, enjoy a challenge, a varied life and don't mind hard work, it is the most rewarding job in the world.
Search and apply for jobs in the home care sector here.
click here for more details or to contact Bluebird Care (Hook)