People with Multiple Sclerosis in the UK are to get eight new specialist MS nurses to help thousands of people affected by the disease.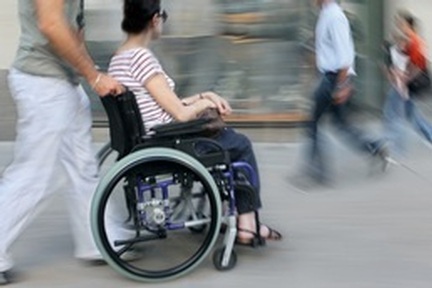 The MS Trust will be funding the new nurses, with the first two of these working in Leicester and Bradford. In the next 12 months, the charity is planning to fund six more nurses in other areas in the country. There are currently around 240 MS specialist nurses across the UK.
Nearly two thirds of people with MS, which equates to 68,000 people, currently live in areas where there are not enough MS nurses to provide care and support.
"We know that MS nurses are vital for people living with MS," said Pam Macfarlane, chief executive of the MS Trust. "They can help people deal with diagnosis, understand their condition, find treatments that work for them and learn to manage a lifelong disease. These nurses have transformed MS care in the last 25 years. But too many people are still having to take on MS alone."
"This can have grave consequences for people with MS. They may have to rely on non-specialist support for what is a highly complex disease. And they may have to resort to using A&E services if their symptoms become worse."
Unfortunately MS is often not a priority for an NHS coming under increasing stress, according to the MS Trust which receives no funding from government or from the NHS to train and support these nurses.
It costs the MS Trust £52,500 to recruit, train and pay for a new MS nurse for 15 months, after which point the NHS will take over funding for the posts. The MS Trust will continue to support all the new MS nurses with training and development, as it does for all MS nurses in the UK.
Jon Knight, aged 43, who was diagnosed with MS 10 years ago, says: "I consider myself lucky to have an MS nurse, but my MS has changed so much and the future does scare me a little. Knowing that there will be enough local MS nurses for everyone takes away this fear. I know whatever happens, I won't be facing MS alone."
This week (24-30 April) is MS Awareness Week and it is also the 25th anniversary of the beginnings of MS specialist nursing in the UK.
The MS Trust revealed that one in three people knows someone with MS, with it being the most common condition of the central nervous system affecting young adults.
Over 100,000 people in the UK have MS, which is about one in every 600. It is nearly three times more common in women than in men and most people are diagnosed in their 20s and 30s, but it can be diagnosed in younger and older people.
There has been huge progress in MS care in the last 25 years and the Trust says that with the help of MS specialist nurses, more and more people are able to get the care and treatments that can help them, and learn to manage this lifelong condition.
For more information on funding MS specialist nurses go to https://www.mstrust.org.uk/get-involved/ways-donate/help-make-sure-no-one-has-manage-ms-alone