Barchester Healthcare group is tackling loneliness by introducing a regular 'don't dine alone' evening, providing companionship for those living at their residential homes, as well as those living within the community at large.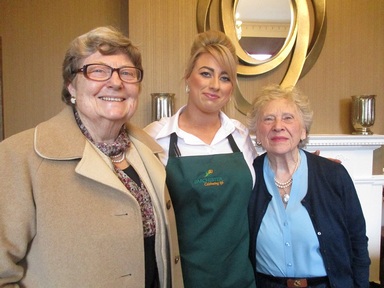 Over 1.2 million people are chronically lonely, according to Age UK, which has found that nearly half a million people over the age of 60 usually spend every day alone, with a further half a million going at least five or six days a week without seeing or speaking to anyone at all.
'Don't dine alone' was initially started as a Christmas initiative to help tackle loneliness in the holiday season, with Barchester homes inviting lonely, older people from the local area to join them for Christmas lunch.
A spokeswoman for Barchester, said: "This was so successful and received such positive feedback that we decided to keep it going throughout the year.
"We now encourage all homes that can to run a 'don't dine alone' project to help others who may be feeling isolated. In some homes, this is a monthly meal, in many it is weekly – it's down to each home to decide what works best for them and for their residents."
One example of blossoming friendship resulting from the initiative is that of Adele Stokes and Jenny Eldrett. After first meeting at Milford House in Salisbury, the pair hit it off immediately, and have now become firm friends. Jenny has also become a volunteer since, joining the activities team in offering a broad spectrum of group and individual activities within the community.
Philip Chapman, general manager at Milford House said: "We have been delighted by the response to this initiative from the local community and so have decided to extend it until the end of May. It has been heartening to see contacts and friendships being formed over a good meal, common interests being explored and links being established.
"We are already looking forward to welcoming back some local residents who have attended on a more regular basis, not only for lunch but to some of our scheduled activity events as well. We are also thrilled that Jenny wants to further her relationship with the home by becoming a volunteer."
Another home currently looking to launch the 'don't dine alone' scheme is Barchester's Andover residence.
Anita Moore, the general manager at Rothsay Grange Care Home in Andover, said: "We are launching the 'don't dine alone initiative at Rothsay Grange after seeing what a positive impact it has had in other communities. Unfortunately, loneliness is a huge problem in many areas, including North West Hampshire where our home is located.
"If we can help just a small number of people make new friends and enjoy a good meal in friendly company then it will have been worthwhile. Staff, residents and their relatives have all been very enthusiastic about the idea and are excited about getting to know more people living nearby."