A devoted husband living with dementia spoke for the first time in months to say he missed his wife, after he 'sensed' that she had died.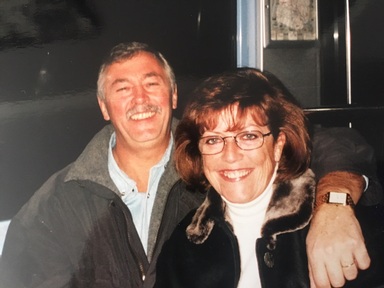 Michael Royce, who had been living with Alzheimer's disease, died a day after his 71st birthday in November 2016, just weeks after his 68-year-old wife Annette, who died in August from liver cancer.
Their daughter Siobhann, a mother-of-two from Surrey who ran the London Marathon in support of Alzheimer's Research, said: "When Dad became ill my mum's lust for life was extinguished. My mum was heartbroken, she just got lonelier and lonelier. She was depressed and lost all self-confidence.
"They had an amazing relationship, they couldn't live without one another. They had all these hopes and dreams which were all lost as her life fell away as quickly as his did."
'I miss her hugely'
At the time of their mum's death, the couple's children - Siobhann, Melissa and Meryck, made the decision not to tell their dad what had happened, as his dementia was "so severe" that they thought he would not understand.
Siobhann said: "We didn't tell my dad that Mum had died, but he seemed to know anyway. Then six weeks later, when I said to him 'Do you miss Mum?' in one of our usual one-sided chats, he turned to me and out of nowhere said 'I miss her hugely'. It was so coherent. He had a sadness in his eyes and I had to fight back tears.
"It was like their unique bond in the world was clear to see. In a way, it was easier thinking he'd never know; they were soul mates, and I knew it would crush him to find out she was gone. They'd been together for over 40 years."
Lost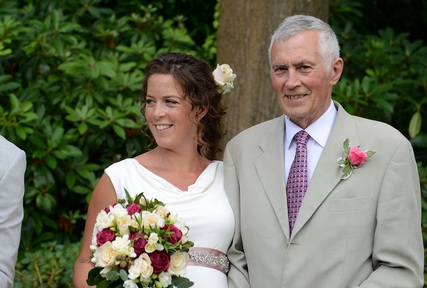 Mr and Ms Ardley were known as the 'golden couple' in the village of Bledington in Gloucestershire, where they ran a hotel, pub and a restaurant.
Siobhann, who previously worked as a personal trainer, said: "It was around 2008 that Dad started to do odd things. He sold his pub and seemed a bit lost. He went from working 365 days a year to just doing a few days volunteering with disabled children and playing squash."
In March 2010 Mr Ardley took a downward turn.
"He would frequently drive off and get lost. One time he parked on the pavement instead of in a parking space while out shopping," she added.
"My siblings and I had finished university and my parents were ready to go travelling but the dementia set in very quickly and he was diagnosed with early-onset Alzheimer's."
Bittersweet
In 2013, when Siobhann got married to her husband David, Ms Ardley was diagnosed with bladder cancer. Her wedding day was the last time her father was able to leave the house before moving into a care home.
Ms Ardley was given the all-clear after having her bladder removed, but in June 2016 she was told she had terminal liver cancer, and was given just eight weeks to live.
Her terminal diagnosis came on the same day Siobhann's daughter Libelula was born.
"Mum didn't want to upset me when my daughter was born so she didn't tell me at first," Siobhann said. "It must have been such a bittersweet moment to meet her new granddaughter while knowing she wouldn't be around to see her grow up."
'His mind was filled with sadness'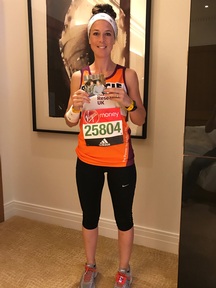 She added: "When my mum died my siblings and I were left at a loss, we were not able to do much except carry on loving my dad and caring for him. My mum worried about my dad right up until the end and we promised her we would look after him no matter what.
"My dad was my best friend, and the most fun, caring and selfless man, not just to his family but to everyone. That's what made him so special.
"I don't believe his heart ever changed, but his mind was filled with sadness, emptiness, loneliness and fear as the dementia progressed. I found myself talking about my dad in the past tense while he was still here, that was one of the hardest things."
Determination
Siobhann signed up to run the London Marathon for Alzheimer's Research UK in her father's honour before he died, and ran in his memory on 23 April.
"Now more than ever I am determined to do all I can to see an end to this devastating condition that pulls families apart," Siobhann said. "I ran the marathon with both my mum and my dad in my memory and in my heart, and I had a picture of them in my pocket the whole way round."
Tim Parry, director of Alzheimer's Research UK, added: "Michael and Annette's story is heartbreaking. It's stories like this that highlight the devastation caused by dementia.
"Alzheimer's Research UK's mission is to end the fear, harm and heartbreak of dementia through world-class research to find the best preventions and treatments for the condition.
"No one has ever survived a diagnosis of dementia, yet. But our scientists' work aims to change that.
"None of this work would be possible without supporters like Siobhann. We can't thank her enough."
Siobhann has raised nearly £7,000. To donate to her cause, go to: www.justgiving.com/fundraising/Siobhann-Ardley