Keith Oliver, a successful and respected head teacher, is one of 42,000 people in the UK living with early onset dementia. On New Year's Eve in 2010, aged just 55, his life was turned upside down when doctors confirmed 'the unknown'.

Since then, Mr Oliver has campaigned tirelessly for Alzheimer's Society, and has published a book called 'Walk the Walk, Talk the Talk'; the story of his life before, during and after the diagnosis.
By keeping busy, Mr Oliver believes it is the only way to face the disease that brought his 35-year teaching career to an abrupt end.
He told homecare.co.uk: "For the past seven years, I have been sharing my brain with an unwelcome and unwanted guest; Dr. Alzheimer. It stays with me 24/7. Sometimes in the background, watching and waiting for an opportunity to make mischief and sometimes leading me up a pathway where I do not seek to go.
"I am reminded of Princess Diana who said there were 'three in her marriage'. My wife Rosemary and I, and the many thousands of other people with young onset dementia know who this third insidious member of the triad is; Dr Alzheimer."
'It wasn't on our radar'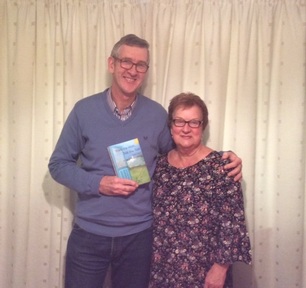 When doctors gave the diagnosis, the father-of-three, who had a distinguished teaching career and was in the process of studying for an MA in education, was forced to accept he could no longer lead Canterbury's biggest primary school.
Mr Oliver began experiencing a series of unexplained falls, suffered with fatigue and had a general feeling of being unwell. He also experienced numerous challenges at work with regards to meeting deadlines, answering the telephone and retrieving and retaining information.
"We thought maybe it was an ear infection at first, and although a GP examined my ears and said there was no sign of an infection, he gave me some antibiotics just in case."
After no improvement, Mr Oliver went back to the doctor who carried out further investigations.
Following an MRI scan and a neurologist appointment to rule out a brain tumour, Mr Oliver was referred to a memory clinic for what turned out to be an in-depth six-month assessment period which culminated with a confirmed diagnosis of Alzheimer's disease.
'We came away completely shaken'
"It just wasn't on our radar," he revealed. "We came away completely shaken. I thought I was bulletproof. No one, especially someone in their 50s wants to be diagnosed with dementia but because of the impact the disease was having on me by way of my ability to undertake my work, there was some peace of mind in knowing what the cause of these problems was."
During the diagnosis period, Mr Oliver was supported by a professional team who explained the results of the tests, which at best he was performing at average and at his worst at the lower fifth centile.
"I wanted information and I needed to understand what I was living with, and subsequently this served to allow me to come to terms with moving from a suggested diagnosis to a confirmed one, and then to begin to live as well as possible with dementia," he said.
Determined to see things through, Mr Oliver chose to confide in only a couple of his closest colleagues, while his wife would collect him at lunchtimes so he could have a quick nap in the car.
But on 1 April 2011, his teaching career came to an end and he took early retirement from Blean Primary School.
The 'fog' of dementia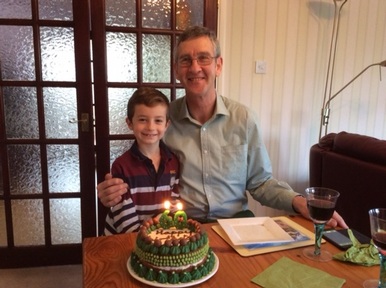 Mr Oliver may be a natural optimist, but there is no disguising the realities of living with what he calls the "wretched condition."
He needs care from his wife, who is supported by an Admiral Nurse, when the 'fog' of dementia descends upon his mind.
"There are certain 'sunny' days when I feel I am coping and there are 'foggy' days when I tend to withdraw into myself," he said. "It is extremely frustrating and it makes me angry that I am not better able to deal with it."
In 2014, Alzheimer's Society estimated that 42,325 people in the UK are living with a diagnosis of early onset dementia.
It is a degeneration of the brain that causes a progressive decline in people's ability to think, reason, communicate and remember. Personality, behaviour and mood can also be affected.
"I had the typical impression that dementia was solely the domain of the elderly," revealed Mr Oliver. "My mother developed Alzheimer's in her mid-70s and she was typical of how I imagined people with the condition.
"Alzheimer's made my mother totally immobile. She lost her memory of how to move even though cognitively some of her memory wasn't too bad. I know that for me is a problem by the way of balance and by way of mobility."
He added: "Something I have also noticed particularly in the last five or six months is that there has been a heightening of my emotions when engaged in either a book, film or TV programme which previously I would have had an emotional attachment too and enjoyed, but now I am in floods of tears.
"Your emotional intelligence becomes more fundamental than your actual cognitive intelligence. It's partly remembering, but it's more significant, it's what you take away from that experience or that conversation or that person even. The content of the conversation is simply gone; but the way one has felt in that moment has been retained."
A story to tell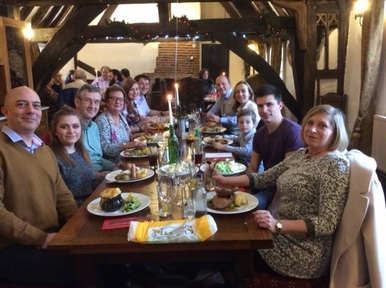 In April 2016, Mr Oliver began writing his book 'Walk the Walk, Talk the Talk'.
It covers the story of his life before, during and since receiving his diagnosis, told also by those who know him best, including health professionals, friends and family.
He hopes his story will help others who find themselves in the same situation as him, as well as raise awareness of the condition.
"I feel I have a window of opportunity to speak to people about dementia and to feel as though I can make a contribution to raising public awareness," he said.
"One of the reasons my health has maintained a reasonably good level is my determination to try and live life positively, to do things which I enjoy and find interesting and to live life to the full.
"Dementia's best friend is apathy, because if you give in to it and think 'it's got the better of me,' you cannot live life as fully as possible. Then it does get the better of you."
Mr Oliver will be speaking about his personal experience with dementia at The Alzheimer's Show in London on 10 June.
Published by Forget-Me-Nots, Walk the Walk, Talk the Talk can be ordered from Alzheimer's Society at £5.00, or from Waterstones at £8.00.
For more information visit: https://shop.alzheimers.org.uk/books/Walk-the-Walk,-Talk-the-Talk