Judges from Britain's Got Talent were moved to tears by an audition from 16-year-old singer Harry Gardner, who sang the song 'Not Alone' about his grandmother who recently died from Alzheimer's.
Judge Simon Cowell called Harry a 'talented songwriter' with fellow judge Amanda Holden and presenter Ant McPartlin shedding tears over his emotionally-charged performance.
Harry, who wrote the song in honour of his nan Maureen McGuinness, who died from Alzheimer's disease at the age of 77 in April, said: "I wrote the song from the bottom of my heart.
"My nan meant so much to me and it devastated me to see her that way. I was aware that my nan had Alzheimer's but I wasn't aware of how severe the disease would be, as I thought it would only be short-term memory loss.
"I visited my grandparents' house with my mum and we had lunch there but my nan was not downstairs as normal. She was lying in a dark room, with no expression on her face whatsoever, with her eyes closed. I had never seen my nan like that before and it really hit me hard. I left the room so shocked."
The first thing Harry did when they got back at home was sit at the piano and try to get all his emotions down into words. "The tune and lyrics fell into place quickly. I explained all the things we did together, like when she brought chocolate when she visited, and ruffled my hair, telling me how bad it was."
Before she died Maureen was cared for at home in Ongar, Essex, by Harry's grandad Owen.
Harry's song 'Not Alone' raised over £8,000 last year for Alzheimer's Research UK when it went viral.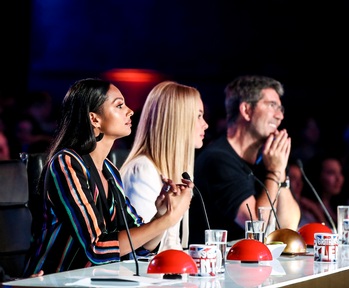 Performance showcased 'talent as a songwriter'
Following Harry's audition which aired on ITV on 6 May, Simon Cowell said: "It's quite rare that I could remember an audition a month or six months later, and this is one I'm going to remember because it was very genuine, it absolutely showed your talent as a songwriter. I like you Harry, I think people are going to get you."
Fellow judge Amanda added: "Harry that really moved me. I just wish your grandmother could see what you've done today because I'm sure she'd be so proud of you."
Harry, who is currently taking his AS levels, spoke about his audition saying: "I was so nervous at the time, I had to keep moving the microphone between my hands because my palms were sweating.
"But once I started singing I really got into it. The whole experience was a bit of a blur but the feeling after I'd done it was absolutely incredible. To have such a huge crowd of people applauding a song I wrote and to get such wonderful feedback from the judges, as well as four yeses, I just couldn't believe it."
Sadly, Ms McGuiness passed away not long after the audition. She had been cared for at her home in Ongar, Essex, by Harry's grandad Owen. Harry explained that his original decision to write the song was to raise money for research. "I decided to use the song to raise money for Alzheimer's Research UK because research is what's needed to find a cure. I hope one day no grandson has to say goodbye to his nan because of dementia."
His nan Maureen had to give up her Sainsbury's checkout job when she was unable to cope with counting money, and it was while they were playing a game of Scrabble that her daughter Gail, Harry's mum, first noticed her symptoms.
'When Harry first played his song to me I couldn't listen to it, I was too emotional'
Gail said: "As a family we've always played Scrabble, my mum absolutely loved the game and my dad used to say she'd swallowed a dictionary. But one day she spelled the word joy with a G, and that was when I knew something more serious was happening. The hardest part was when she finally forgot who we all were.
"When Harry first played his song to me I couldn't listen to it, I was too emotional. I got him to record it on a CD and listened to it in the car with my sister on the way to visit my mum. We cried the whole way. "His dad and I are so pleased Harry has been given such a wonderful platform to share his song and continue to raise awareness of this cruel disease."
Last year, Harry was made a Champion of Alzheimer's Research UK, an accolade given to those who have gone above and beyond to raise funds and awareness for the charity.
Tim Parry, director at Alzheimer's Research UK, called Harry an "inspiration to young people" and added: "We've been blown away by his commitment to support the charity in honour of his nan.
"Raising over £8,000 through his music is no mean feat, and we were thrilled to see him on Britain's Got Talent sharing his song with the nation. We can defeat dementia through research and it's the incredible generosity of people like Harry that is powering our pioneering work to achieve this goal."
To donate to Harry's fundraising page go to http://uk.virginmoneygiving.com/HarryGardnerMusic
Alzheimer's disease is the most common type of dementia, which, according to the Alzheimer's Society, is currently on the rise. There are 850,000 people with the dementia in the UK, with numbers set to rise to over one million by 2025. This will soar to two million by 2051.