People living in their own homes will have to pay more for domiciliary care because the Conservative party's manifesto pledges to include the value of people's property in means testing to assess how much individuals should pay for their social care.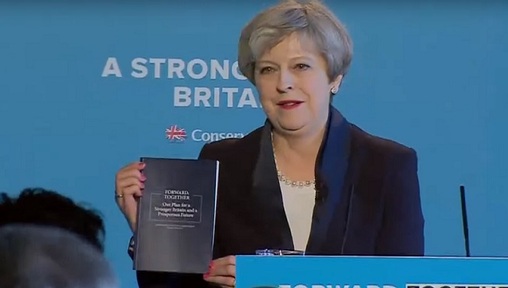 At the moment, people must pay for their home care if they have more than £23,500, but this currently excludes the value of their home. However the Conservative manifesto demands people pay for their home care if they have more than £100,000 – which for the first time includes the value of their home.
With houses in many parts of the country fetching high prices, the nation's ageing population will end up paying a far larger slice of their wealth to the Government.
The Prime Minister argues the social care means-tested threshold will be raised from £23,500 to £100,000 to give people the chance to retain more of their wealth but many elderly homeowners who rely on home care will be worse off.
New 'Death tax' for home care users
The Conservatives have promised to introduce a 'death tax' for people using home care. People wanting to keep their homes can defer payment and the state will deduct the cost from their estate when they die in a 'death tax'.
The manifesto states: 'We will extend the current freedom to defer payments for residential care to those receiving care at home, so no-one will have to sell their home in their lifetime to pay for care.'
Some nine out of 10 people aged 50+ surveyed have said they would choose care in their own home as opposed to anywhere else, according to a poll of Saga customers in 2015.
'Frankenstein's monster'
Commenting on the manifesto, the National Pensioners Convention, which has one million members tweeted: 'Tory care pledge in their manifesto is a Frankenstein's monster of a policy, all the worst bits bolted together & fails to tackle crisis'.
Broken Tory promise over social care cap
Some have expressed dismay at the Conservative party's broken promise to cap social care costs by 2020. This includes Sir Andrew Dilnot, who recommended to the Coalition Government that people's contributions to care costs be capped at £35,000 in a report to the Coalition Government in 2011.
Means-testing winter fuel payments
The Conservative manifesto also intends to help pay for social care by scrapping winter fuel payments for better-off pensioners - at the moment, all pensioners qualify for one-off payments of between £100 and £300 each year.
On the subject of winter fuel payments, Torsten Bell, director of the Resolution Foundation has said Theresa May is proposing to restrict these payments so that only the poorest pensioners (the two million pensioners entitled to pension credit) will receive the winter payments- saving £1.7 billion by taking it away from 10 million pensioners.
Removal of triple lock pension
A reduction of the so-called 'triple lock' on pensions to a 'double lock' with the state pension to rise by the higher of average earnings or inflation - will not but to no longer go up by 2.5 per cent if they are both lower than that.
Mental health
The manifesto promised to 'address the need for better treatments across the whole spectrum of mental health conditions' and make the UK the leading research and technology economy in the world for mental health.
More access for people with disabilities
The Conservatives pledge to review disabled people's access 'and amend regulations if necessary' to improve disabled access to licensed premises, parking and housing.
"We believe that where you live, shop, go out, travel or park your car should not be determined by your disability. We will work with providers of everyday essential services, like energy and telecoms, to reduce the extra costs that disability can incur.
Net migration target
Theresa May also promises to stick firmly to the net migration target of 100,000, even though it hasn't been below this figure since 1997. Net migration, the difference between people coming to the UK for more than a year and those leaving, stood at 273,000 in the year to last September.
UKHCA manifesto
Colin Angel, UKHCA (UK Homecare Association) policy and campaigns director, said: "Social care must feature prominently on the political agenda in the run up to the general election.
"We want our next Government to respond effectively to the social care crisis to ensure that a stable homecare sector can relieve pressures on the NHS and meet people's overwhelming preference to have their care needs supported at home, whether they are supported by the state or fund their own care."
The UK Homecare Association (UKHCA) has launched its own 2017 election manifesto calling on the next Government to:
1. Ensure people with care needs remain independent at home
2. Relieve pressure on the NHS by effective use of homecare
3. Make it easier for people who are willing or able to fund their own care
4. Stabilise the state-funded social care market
5. Expand the workforce and increase recognition of homecare workers
6. Ensure that the public are protected through consistent regulation
7. Ensure a sufficient workforce following Britain's exit from the European Union
You can read about the UKHCA manifesto here: www.ukhca.co.uk/pdfs/UKHCAManifesto.pdf
The Conservative manifesto can be read here: www.conservatives.com/manifesto