Living Paintings, a specialist publisher for blind and partially sighted people, is reaching out to combat social isolation and loneliness through a nationwide book group called 'Touch to See'.

The book group connects over 4,200 blind and partially sighted members across the whole of the UK, with members encouraged to share their memories and experiences and make friendships that can be built on within their wider community.
Programme manager of the Touch to See book clubs, Maria Storesund, said: "Living Paintings books bring up memories and helps the quieter, less confident members to come forward and talk about their experiences.'
The book group utilizes Living Paintings books, which contain a raised image, or thermaform that depicts a well-known image, and a descriptive audio file, usually read by a celebrity or an authority on a given subject.
Books are then distributed via the Living Paintings library; a service offered free to its members.
'I haven't spoken to or seen anyone for a few days, I get really lonely.'
Joy is a member of the Living Paintings Thatcham group in Berkshire, and has felt isolated in the past. She has found the group has enabled her to form new friendships and networks to get her out in the community.
The first time she went to one of the book groups, she said: "I am so pleased to be going out, I haven't spoken to or seen anyone for a few days, I get really lonely."
Joy lost her husband to cancer a couple of years ago, and she has no children or relatives who live close by. The book groups have been a lifeline to her and she now participates in other social activities within the blind community.
"The book groups get you listening to subjects that you wouldn't normally listen to. They are interesting and stimulating. It keeps the grey matter going! Some of the members I had things in common with, which I did not know.
"We exchange tips and lots of useful practical things which we have all discovered since losing our sight."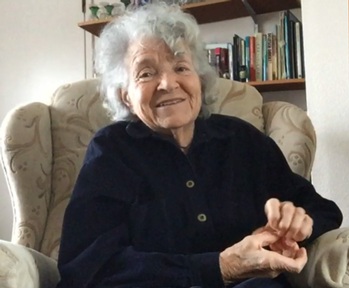 It has always been the aim of Living Paintings T2C (Touch to See) book groups to enrich the lives of its library members, with the charity especially keen to tackle the issue of loneliness and social isolation of older people within the blind community.
In 2015, The Royal National Institute of Blind People, released its 'My Voice' survey from 2015, which found four out every 10 blind and partially sighted people felt moderately or completely cut off from people and things around them.
This was of particular concern for those over 75 years of age, with over half of this age group living alone.
Van Gogh's sunflower painting evokes memories of Jamaican stews
Many Living Paintings books are about famous paintings, such as the Mona Lisa by Leonardo da Vinci, or Van Gogh's sunflowers. The discussion of these books in the group can evoke strong memories.
Ms Storesund said: "I was carrying out a demonstration with a group and introduced them to Vincent Van Gogh's 'Sunflower' picture.
"The subject of a sunflower made members think of herbs and edible flowers and therefore bought up the memories of a Jamaican lady who settled in the UK in the early 1950s. Our conversation went from the life of van Gogh and how talented he was, to a discussion about Jamaican stews!"
The T2C book groups have seen a big rise in popularity over the last couple of years.
One of the members from the Thatcham group, Maureen, explained: "I can understand why they [the book groups] have really taken off.
"I heard about the group because I used to have my local paper on cassette and I thought 'I'd love to do that, it sounds fantastic', although originally I couldn't fit it in as I couldn't find time, and then when I did, it was everything I wanted it to be."
Shared experience offers a different way of 'seeing'
Many of the blind and partially sighted members in the group speak about 'seeing' a picture or book, or 'reading' in the same way that a fully sighted person would.
Through the tactile pictures, they still 'see' but in a different way to how a sighted person would see.
Maureen Nickless and her friend Sue Hogg both go to a Touch to See group in Thatcham in Berkshire on a regular basis.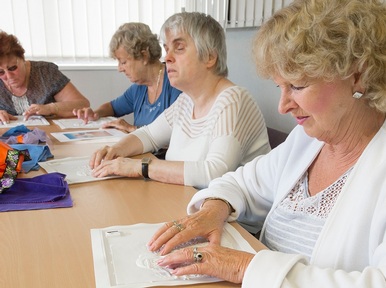 They both have different conditions which have seen their eyesight degenerate over time.
Sue Hogg said: "I have MS, and it has affected my sight, gradually, over the years. I was diagnosed with MS aged twenty-three or twenty-four, when I was pregnant".
Her vision is slightly better than that of her friend Maureen, who is registered as blind, and has only 10 per cent of her vision left.
Maueen said, "I was told at 18 I was going blind. I have something called Retinitis Pigmentosa", which is a degenerative eye condition that is usually inherited.
"But, I've been hairdressing all my life, and I still do have a few clients. I keep telling them I can't see, but they won't go", she laughed.
Prior to attending the Living Paintings book groups, Sue and Maureen had already been friends for many years and have very active social lives within the local blind community.
Maureen joked: "Wherever you go, you'll see Maureen and Sue sat together. We're joined at the hip"
The two ladies rely on each other in social situations, and act as a team to get about. Maureen has hardly any vision but is able bodied, whereas, Sue has better vision, but struggles with walking due to her MS.
Sue said: "I am the 'eyes' as my sight is better than Maureen's, and she is the 'legs' because she can walk better than I".
Both women lead very active social lives, and Maureen is even taking part in a sponsored sky jump next year to celebrate her 70th birthday.
For the most recent book group, the Thatcham members studied the Mona Lisa, which was part of the Living Paintings title, 'Mysterious Women'.
They listened to an audio description, which guided them around the thermoform of the famous painting.
A couple of members struggled to pick out part of the Mona Lisa's garment, and so Ms Storesund stepped in to help them find it.
Many members felt it was the attention to detail of the raised image, and the historical guidance of the audio that really added to their experience and understanding.
Maureen, explained: "If you are somebody who can see, they will describe, for example, 'a woman sitting in a chair, but with Living Paintings, you get all the background; you get all the tiny definitions and individual bits. That's what we miss."
If you are a blind or partially sighted person who would like to attend a local Touch to See book group, or a volunteer who would like to start a new group, please go to the Living Paintings website for more information.