Visually impaired and blind people will be test-driving new driverless pods, which have been designed for short low-speed journeys.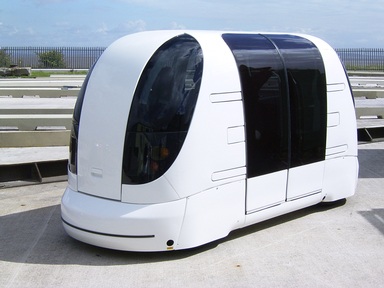 The autonomous pods designed by the INSIGHT project have been developed to make travelling around easier particularly for blind and visually impaired people.
The pod is equipped with sophisticated 3D-imaging systems and sensors, designed to enable it to safely navigate through pedestrian areas.
One of the pods is currently on display at the Thinktank Science Garden in Birmingham's Eastside. People can examine the pod and quiz experts. Birmingham City University, one of the project partners is to work with industry experts on various trials including ones involving blind or visually impaired people in pedestrianised areas.
Dr Umar Daraz, director for the Institute of Sustainable Futures at Birmingham City University, one of the project partners, said: "It is great that we will also be able to give blind and visually impaired groups the chance to give their feedback on the pods, which will be key to fine tuning them and making sure they meet the needs of users who may have difficulty travelling independently in busy city environments.
"This project is a great example of bringing a range of public and private partners together to test what can be done in the fast moving world of autonomous vehicles and we hope as many people as possible will have the chance to come along see the vehicles and talk to the team."
Unlike the Heathrow Ultra Pods, currently in use at Heathrow Airport, the INSIGHT pod will not run on guides or tracks and will instead use sensory data to move safely around.
Advanced indoor and outdoor positioning systems will allow blind people to know their exact locations using a smartphone app and will link to a cloud-based system which will allow nearby vehicles to be virtually requested or 'hailed'.
The INSIGHT project, whose other partners are Heathrow Enterprises Ltd, Fusion Processing Ltd, Westfield Sportscars Ltd and Conigital Ltd, was awarded £2.2m of funding from the Government's Intelligent Mobility Fund last year to transform the hi-tech Ultra Pods into autonomous pods, which could be used to improve accessibility for people who have difficulty travelling independently.
The pod will be on display each day from 10am to 4.30pm until Friday 2 June and project staff will be on hand to answer the public's questions and discuss the project.