Communities across the UK are being urged by charities to recognise and value the needs of unpaid carers across the UK.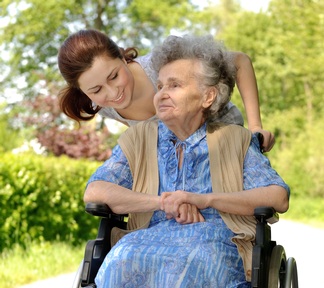 The appeal comes after an online YouGov poll, published for the start of Carers Week (12 – 18 June), revealed that seven in ten people feel carers are not 'sufficiently valued' by society for the support they provide to others.
Carers Week is an annual campaign and is focusing on 'Building Carer Friendly Communities' this year to support individuals who look after their loved ones, while recognising that they are individuals with needs of their own.
Heléna Herklots, chief executive of Carers UK, said: "It is deeply concerning that three-quarters of respondents feel carers are undervalued by society for their contribution and this figure rises further for those who have caring experience themselves.
"We're calling on the public, Government and all parts of society to play their part in supporting the UK's 6.5 million carers by helping to build communities that recognise and understand the value and needs of carers.
"From hospitals that provide discounts for carers in their cafés, or workplaces that give employees paid leave for caring; to offering to shop for a friend who struggles to get out of the house, there are hundreds of small changes we can make to ensure our communities become more carer friendly.
"As a society, we depend on unpaid carers – it's time we had a plan for how to better recognise and support them."
Concerns
According to the poll, more than six million people in the UK are currently providing unpaid care for an older, disabled or seriously ill loved one, at an estimated cost of around £132bn a year.
By 2037, it is estimated that the number of carers in the UK will rise to nine million.
When asked about their top three concerns, affordability of care and the impact on their finances, coping with the stress, and worrying over the necessary skills and experience to become a carer were found to be the biggest issues.
More than a quarter of the 2184 respondents also said they worry about the impact of caring on their physical health.
The poll was conducted on behalf of eight major charities who are calling on the Government and society to do more to recognise the important contribution that unpaid carers make.
Online campaign
With over 146,000 carers in Essex, the county council has started an online campaign highlighting how GP practices can help carers in their practice.
"Simple things such as flagging they are a carer on their patient record, having a different GP to the person they care for and being flexible on appointments have been shown to make a huge difference," said counsellor John Spence, Essex County Council's cabinet member for health and adult social care.
"Surely it is incumbent on all of us to support them as they look after their loved ones. We can all play our part in helping to identify carers, recognise they may be struggling and making small adjustments to improve their lives."
Carers UK is supported by Age UK, Carers Trust, Independent Age, Macmillan Cancer Support, Motor Neurone Disease Association, the MS Society and Which? Elderly Care.