"There is such a need for dementia-friendly barbers, says Lenny White, who has been making men with dementia feel good about themselves again.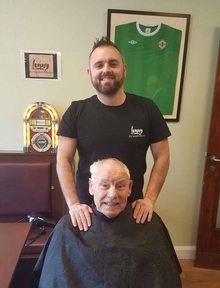 Based in County Down, Northern Ireland, he started cutting the hair of male care home residents, when his friend invited him to the care home where she worked as an activities coordinator.
"That was how it all started. I brought my little jukebox and played some old classics for the men and just watching and listening to them singing along brought back the good feeling I remembered from when I used to work in a care home in my teens. Since November my business has grown faster than I could have imagined."
As his work snowballed, the Alzheimer's Society put him in touch with Radius Housing where he did specialist dementia training.
On busy days he can do as many as 16 residents in a day, visiting care homes within a 30 mile radius of where he lives.
Relaxed atmosphere
The 36-year-old says: "When I get to the care home, there is a list waiting for me of who I will see that day. I make it a whole barber experience so there is fresh lemon scent in the room and music. I put on old classics by Elvis, Dean Martin and Frank Sinatra on a jukebox I bring with me. I also bring hot towels, barber shop signs and old photographs. It creates a relaxed atmosphere and the men really enjoy it."
Lenny calls it a 'men's day' and says: "Women sometimes try and come into the room but I tell them they are not allowed."
People with dementia can get agitated and confused and Lenny has found that if this happens, music can really help to calm them.
"I speak to them gently and I get them to start clapping their hands to the music. I often sing to the music with them and that helps to distract them.
'The care workers can't believe it when I get agitated residents to sit still'
"I have had some who haven't wanted to sit and they just wanted to pace up and down but I manage to get them to sit and stay still while I use the clippers on their hair. The care workers can't believe it when I manage to get them to sit still. It is about being patient.
"I speak to them in a quiet tone and talk them through what I am going to do and show them my hairdressing tools. I tell them I am here to cut their hair and I talk them through the process."
The men don't just get a haircut. "I cut the men's hair and trim their ears, nose and eyebrow hair and afterwards a good old fashioned shave followed by a head/face massage and a dash of lemon lotion to finish off. So they can hear, see and smell so much better when they leave," says Lenny.
Cutting someone's hair can very intimate and Lenny finds the men can really open up to him. "You can really get to know someone when you are cutting their hair. I find out where they are from and what they used to do and they tell me all kinds of stories about their lives."
'It is incredible seeing their faces when they leave'
Pampering and grooming these men can have a big impact on the way the feel. "It is incredible seeing their faces when they leave," says Lenny. "They are smiling as they feel good about themselves again. You see them walk in and they walk out feeling and looking like a different person. The care assistants make a fuss of them when they come out as well saying they look like a new man and that all the women will be after them."
He also cuts the hair and shaves the male residents who are bedbound, as well as doing house calls to people receiving home care. Some of these are very ill and getting end of life care.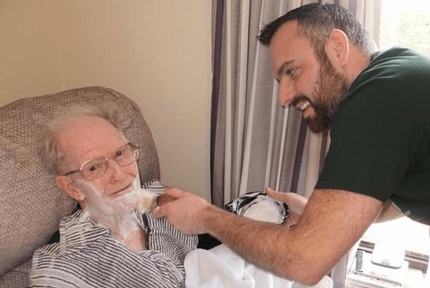 Joanne Wendy Cushley who works at Cairnmartin Court in Belfast, found the male residents loved it when Lenny visited with his pop up barber shop. She said: "It was such a treat for them and wonderful to see them enjoying being pampered. Lenny was a big hit with all the residents and their families."
Similarly Heather Benson, activities coordinator at Kingsland Care Centre in Bangor, said: "Seeing the men looking so dapper and happy after their barber experience says it all for me."
'There is such a need for it'
News about his innovative dementia-friendly barbering has spread and he is now in huge demand. "It is so unique and different and there is such a need for it. Men in care homes are usually just getting a trim in the women's hairdressing salons. They need a space and an experience which is just for them," he says.
As a result, he is planning a franchise model which going to be called Dementia Friendly Barbers. "There are so many men who need this and I can't cover them all."
The franchise model will start in Northern Ireland but he hopes to spread it out across the UK. All the barbers will be male and will have specialist dementia training and be police checked.
To find out more about Lenny go to https://www.facebook.com/dementiafriendlybarber/?ref=br_tf