Dad dancing was never cool but one daughter is showing just how funny it can be, one Instagram post at a time – revealing how a person with Alzheimer's can be humorous too.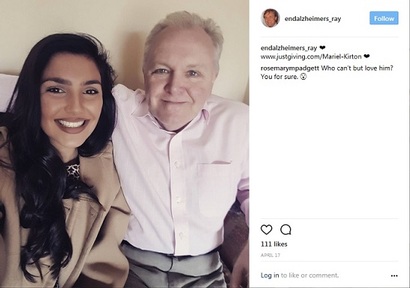 The rhythmic moves of Ray Kirton dancing in the living room has been captured by his daughter Mariel Kirton, who has been posting what he's been doing every day, after he was diagnosed with Alzheimer's at the age of 52, seven years ago.
In blog posts under the Instagram handle 'endalzheimers_ray', his 21-year-old daughter shows Mr Kirton's attempts to dance, hum along and laugh out loud with his family in videos that have led to his antics being enjoyed by a wider audience via Instagram.
His daughter posts: 'Dad still absolutely loves listening to music and reacts so well to it. He tried to sing but can't usually get the lyrics, but he's always humming, dancing or saying "this is a brilliant one".'
The 58-year-old, who lives in Leeds, attends a 'Singing for the Brain' group, run by the Alzheimer's Society which brings together people with dementia to sing and socialise.
But Mariel Kirton, who was 14 when her father was diagnosed with early onset dementia, blogs: 'He can't join in with many of the songs as he can no longer read lyrics.'
In another post, she reveals how her dad's attempts to help with the household chores, have unexpected results, as an old clock he is cleaning gets dismantled but later mended by her mum.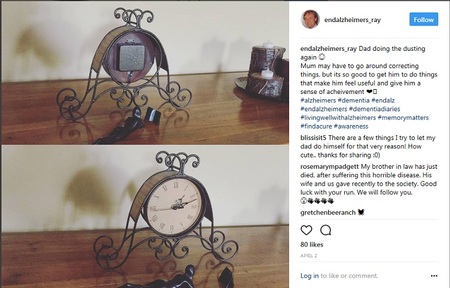 His daughter takes it in her stride when she says: 'Dad doing the dusting again ??
'Mum may have to go around correcting things, but it's so good to get him to do things that make him feel useful and give him a sense of achievement'.
In another post, Mr Kirton's love of television is clear even though he often thinks he is the presenter of the entertainment show he's watching, whether that may be Ant and Dec or Simon Cowell. 'Dad totally thinks the people on the telly are with us'.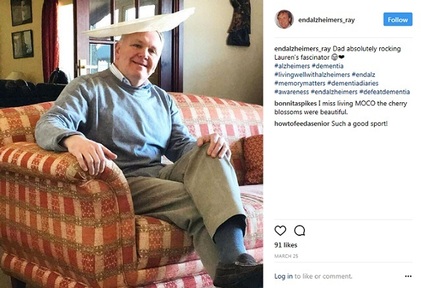 Ms Kirton is quick to document online actions that reveal dementia's effect on her dad including showing a jumper he is wearing inside out, complete with green poppy stem poking though it.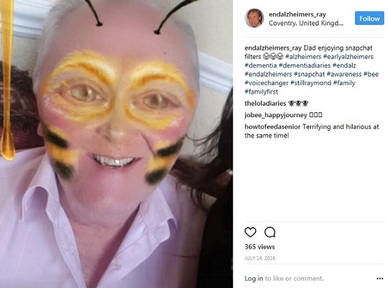 Ms Kirton also shows her father 'absolutely rocking' a fascinator he's wearing on his head and his delight at using Snapchat filters.
Ms Kirton ran in the Leeds Plusnet Half Marathon last May to raise money for Alzheimer Research UK. So, far (26 June) she has managed to raise £2,194.00, surpassing her £1,000 target.
She posts: "Thank you so much to everyone who has sponsored so far. please support this amazing cause if you haven't already - for my amazing Daddy and people just like him.
""At £24 billion each year, dementia costs the UK economy more than cancer and heart disease combined - yet over two thirds of the care is paid for by patients themselves or their family - with such disproportionate funding, finding a cure is so vital."
To donate to Mariel Kirton's fundraising page click here