The charity Independent Age has issued guidance to help protect vulnerable people from being the victims of scammers, after a 91-year-old lost tens of thousands of pounds over a three-year period.
Agnes was tricked by scammers who were "leaching money drip by drip" from her, according to her son-in-law Rodney.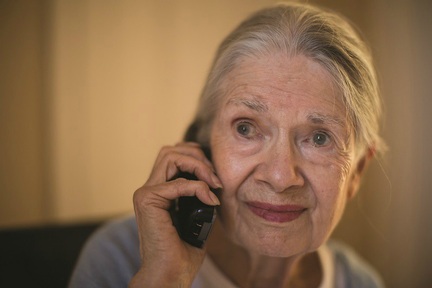 He and his wife Catherine realised something was amiss when Agnes asked them to lend her money for a payment which was due on her shares. They immediately thought this unusual as Agnes, who lived at home, was usually 'fiercely independent' and would deal with her own financial affairs very efficiently.
They were soon to discover that Agnes had spent all of her savings buying worthless shares, with the family estimating she had spent thousands of pounds.
Rodney was quick to bring it to the attention of the police, however, scammers continued to find that Agnes was willing to listen to their calls.
Rodney said: "She sits at home and talks through the calls that people make to her. She talks to anyone that phones her."
The next raft of scams that came along were of the 'cheque with your name on it' variety, with Agnes being put on what is known as a 'suckers' list'.
Rodney explained: "After that came a raft of companies trying to flog her stuff by mail and phone. They'd tell her 'You have won a house,' or, 'Congratulations! You have won £15,500', 'You will be lucky', 'There's a cheque waiting for you', or 'Act now to see if you are a winner.'
"None of these 'prizes' were ever going to arrive. They are scams. It was so frustrating trying to communicate that to her."
Agnes was losing £600 a week to these scams, but by now an embarrassed Agnes was trying to cover up her tracks, a common tactic deployed by vulnerable scam victims.
"She tells me she is buying the stuff for her friends in the village. She is being secretive about what she's doing," said Rodney, "We have tried to sit down and talk to her about it. It's tragic, scammers are taking advantage of her. Her mail is awash with junk mail.
"I think, at the end of the day, whatever money she has left in her account, it is her right to do with it what she wants, but these people are villains."
'Scammers are leaching money drip by drip from my mother-in-law'
Son-in-law Rodney explained his frustration in dealing with scammers who targeted 'Agnes' over a three-year period:
"Scammers are leaching money drip by drip from my mother-in-law. They are crooks and wretched people. They are disgusting. The problem is that when she dies she wants to leave something to her grandchildren. I feel powerless to help her."
Independent Age has published 'Scamwise: Spotting, avoiding and reporting scams' to coincide with Scams Awareness Month in July. It hopes their guidance will help people such as Agnes from falling victims to these scams.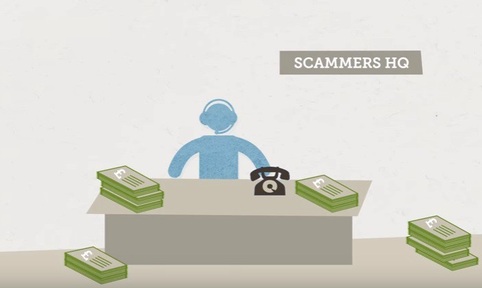 Elderly victims of scammers have 'increased chance of ending up in care'
According to Age UK, an estimated half a million older people in the UK have fallen victim to a scam.
However, the real number could be much higher due to the embarrassment many people may feel after being scammed.
Older people are often more susceptible to scams as scammers target those who live alone, especially those that are at home during the day.
Scammers will also seek out those who have more savings and valuables and who are willing to talk to fraudsters. This makes the older person a prime target.
In 2015, the Financial Ombudsman found that 80 per cent of phone scam victims were aged over 55 and 65 per cent of doorstep scam victims were over the age of 75.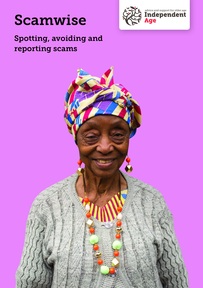 At the recent Alzheimer's Show in Olympia, Frances Wilson, project officer at the National Trading Standards Scams Team revealed that for older people, "a scam can result in depression, damaged relationships, debts, repeat victimisation, suicide attempts, poor physical, mental and emotional health and increased chance of ending up in care".
'Anyone can be a victim of a crime and it's nothing to be ashamed of'
Getting convictions can be tough for authorities as there is less reporting of scam schemes than other crimes due to the feelings of shame that many victims feel.
Lucy Harmer, director of services at Independent Age, said: "Agnes' story is tragic, and even with support and advice from her family they say she still ended up as a victim and losing probably tens of thousands of pounds:
"For older people who think they may have been scammed, it's important to remember that anyone can be a victim of a crime and it's nothing to be ashamed of. The most important thing is to report it so you can get the support you need and to help prevent other people being targeted by the same scam.
"It's also good to be aware of the tactics scammers use and learn how to protect yourself."
Independent Age's Lucy Harmer has provided an 'at-a-glance' list of questions for homecare.co.uk to help identify a potential scam.
1. Is it unexpected? – It could be a scam if you're contacted out of the blue – for example, an unexpected communication from a person or company you've never heard of, or from a familiar sounding company asking for something unlikely.
2. Is it telling you to take urgent action? – Tight deadlines and 'make sure you don't miss out'-type language are designed to pile on the pressure. Scammers often rely on panic tactics, suggesting you'll be at risk legally or financially if you delay.
3. Does it seem unlikely? – If it sounds too good to be true, it probably is. For example, winning a prize draw you don't remember entering, or being offered implausibly good investment opportunities.
4. Does it tell you to keep it secret? – Be suspicious if you're asked not to tell anyone else, or told not to ring an organisation like your bank to check what you're being told is accurate. This can stop you sharing information with other people who might notice something suspicious.
5. Does it look unprofessional? – Bad spelling and grammar, and overly familiar or odd language, are common in scams. Scam communications might use vague or unlikely-looking contact details, such as a mobile phone number, a PO Box, or an email address that's different to what you would expect.
6. Does it ask you to pay money upfront?– Scammers might charge you for goods or services that won't materialise, to release a non-existent prize they claim you've won, or to claim a non-existent inheritance. You would never have to pay to release money that is owed to you.
7. Does it ask for personal or banking information? – Never disclose your passwords or bank card PIN. Neither the bank nor police would ever ask for this.
8. A communication doesn't need to tick all of these boxes to be a scam – For example, some may look very professional and genuine. If you're not sure, call the customer services number at the company to check if it's real. If unsure, phone back alternative numbers from the phone book or the company website.
To obtain Independent Age's free advice guide, "Scamwise: Spotting, avoiding and reporting scams" go to independentage.org/scamwise.
A video has also been produced for care workers or relatives to use making it easy to understand.
There is also a quiz to see how scam savvy you are at: https://www.independentage.org/information/money/scams/scams-quiz