With his tattoos, leather jacket and goatee, Ric Mason, is in many ways the image of a classic biker. Yet, several times a week he sings to people living with dementia in Bridgend, South Wales, encouraging them to sing and dance along and evoking memories of their youth.

Mr Mason, a group befriending volunteer with the Alzheimer's Society in Bridgend, is one of the subjects of a BBC Three series called 'Amazing Humans'.
In the short film posted online, which has already been watched more than 140,000 times, Mr Mason is seen playing his guitar in one of the monthly music sessions he runs at the charity's office in the town.
In the film, he says: "The carers that come with some of the people living with dementia have said to me that it almost feels like for that hour they get the person back. They just want to be able to remember the good times and the music sessions provide that for them.
"When people ask 'What did you do today?' I can say I helped somebody forget for an hour that they are not very well.
"I get a lot out of it, probably as much as they do, and I'll carry on performing for as long as they want me to."
'I won't go home and cry today'
Mr Mason revealed that he never quite 'fitted into society' but found his true calling when he joined the God Squad, a motorcycle club dedicated to helping people on the fringes of society.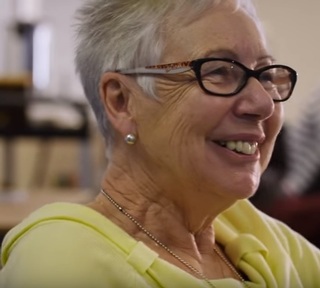 Now two or three times a week, he can often be found singing classic songs like Frank Sinatra's 'Fly Me To The Moon', helping those living with dementia and their carers to not only relax and enjoy a dance, but to reconnect with their loved ones and remember the good times.
Sheila, who is married to George and has been diagnosed with dementia, feels privileged that Mr Mason comes to perform for them. She said: "Sometimes things can be quite hard, and there are days when you think 'Can I cope?' But seeing Ric perform is great - he plays music from our teenage years.
"Before, George didn't sing around the house or anything, but now he actually sings and I can hear him humming to himself when he's in the kitchen."
Lily, who was diagnosed with dementia three years ago and is seen singing and dancing in the film, added: "I won't go home and cry today."
Remembering the good times
Mr Mason originally started as a sessional worker for Alzheimer's Society's 'Try Something New' project, which was lottery-funded.
However, when the funding ended in July 2016, he understood how much the service users enjoyed the music sessions and how beneficial they were to both people with dementia and their carers, so he agreed to continue the sessions on a monthly basis, as a volunteer.
Julie Kelly, Alzheimer's Society's befriending manager, says the music sessions provide a "social lifeline" for those living with dementia.
She said: "Social isolation is a huge issue and having companionship in a safe environment, even just for an hour, can make a real difference.
"Many people are still ignorant of the condition and the effect that it can have on people and many people think that dementia is just about 'forgetting things', but there is a lot more to it than just memory problems.
"Music can evoke very strong memories in all of us – when we hear a song that takes us back to childhood or adolescence we can remember who we were with, where we were and most importantly, how we felt at the time."
She added: "The power of music is well documented as a therapy for a wide variety of conditions including dementia, and as Ric explained so well in the film, people with dementia draw on their memories as a way to cope with situations."