TV presenter Davina McCall, has revealed how she "grieves the loss "of her "old Dad" since he got dementia, but says they are "forging a new relationship, a different one, where perhaps he might need me more".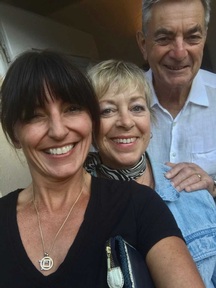 Davina, who recently presented The Jump, is taking part in the Alzheimer's Society's Memory Walk to raise awareness and much needed funds to help combat the disease. She will be joined on the fundraising walk by her dad Andrew and mum Gaby.
Her 73-year-old dad, who was diagnosed with the disease a couple of years ago, after his wife and daughters noticed his short-term memory lapses were becoming increasingly frequent, said: "My family noticed the signs before I did. They tell me that occasional memory lapses associated with age became more frequent and more short-term. Then I began searching for words, everyday words that would normally have been easy to retrieve from my memory. That's when I realised that this was more than just the natural decline in memory."
He added: "I am blessed with a strong streak of optimism and there is no doubt that it has helped me come to terms with the diagnosis. I'm doing what I am told to do by the professionals: no more alcohol, plenty of exercise, plenty of reading and challenging my brain to keep things working as much as possible."
Davina who admits she has always slightly hero-worshipped her dad, describing him as "a rock" and "way smarter than me, funnier, stronger", said: "It didn't take us long to all come together and ask each other if we should be concerned. The psychologist that first assessed him said that he could have been affected for a while – but he is so clever that he had come up with strategies. That's my dad – see a problem, come up with a strategy."
'He's still my Dad'
She revealed that the dynamics of their relationship have changed, but said: "He's still my dad".
Davina calls her dad "very charming" and said "everyone he meets falls in love with him". She added: "That's one thing that hasn't changed. He still gives the best hugs and my kids adore him. Since he's had Alzheimer's, he has become calmer and kids respond very well to that."
However she does worry about the strain on her mum, saying: "It's a lot, watching the man you love struggle and I know it's tiring for her. Each day is a blessing. We as a family are learning to adapt fast. Each step we discuss together."
Her mum Gaby said: "As anyone knows, if you have lived with someone for many years - 43 in our case - you will notice the subtlest of changes in their behaviour and personality.
"First, I noticed Andrew would repeat a story he had told only 15 minutes earlier and yet he had no recollection of the first occasion. Then I noticed he could not recall events that happened in the past few days. Eventually, he started struggling to find the words he wanted to say and to find everyday items around our home.
"Both our daughters, Davina and Milly, noticed a change and we all agreed it should be investigated as soon as possible. That would be my first word of advice, don't dismiss the early signs and wait until it develops to a more advanced stage."
'Don't be embarrassed'
She believes that "the earlier you can catch it and medicate it the better it will be for the person with dementia and their family. Then all you can do is to accept it and commit to doing everything you can to manage it and beat it. Talk about it together on a regular basis. Don't be embarrassed. Andrew is lucky because he is not at all embarrassed and tells everyone about his diagnosis."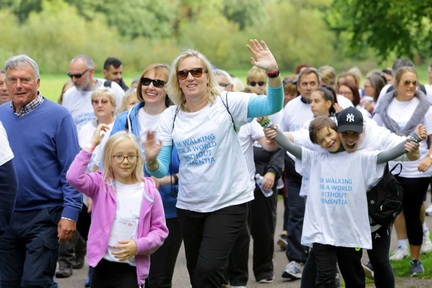 She also revealed that being a carer for someone with dementia can be "very frustrating and your patience will be constantly tested".
She added: "It's sometimes hard to admit that you need help. It's not a sign of weakness; it's inevitable at some point."
The family have decided to take part in the Brighton Memory Walk as they say it is a great way to come together and show each other support. This year the fundraising event has expanded even more and now comprises 34 flagship walks – including the first ever night walks in London, Liverpool and Cardiff.
Jeremy Hughes, chief executive of Alzheimer's Society said: "Alzheimer's Society's Memory Walks are going from strength to strength each year - which is just as well because with dementia set to be the 21st century's biggest killer, we must all come together to unite against it." To register for Alzheimer's Society's Memory Walk, go to memorywalk.org.uk
.
click here for more details or to contact Alzheimer's Society