Loneliness and social isolation may represent a greater public health 'hazard' than obesity, a new study has found.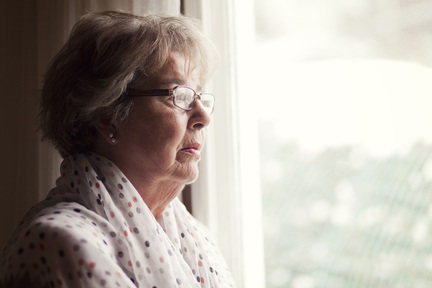 US researchers found that both states can increase the risk of premature death by up to 50 per cent, after analysing more than 200 hundred studies. In contrast, obesity raises the chance of dying before the age of 70 by around 30 per cent.
Lead author Dr Julianne Holt-Lunstad, professor of psychology at Brigham Young University, Utah, said people should be preparing for retirement socially as well as financially, because for many people the workplace is their biggest source of companionship.
She said: "Being connected to others socially is widely considered a fundamental human need—crucial to both well-being and survival. Yet an increasing portion of the population now experiences isolation regularly."
According to the Campaign To End Loneliness, over one million older people in the UK suffer chronic loneliness. Around 17 per cent of older people see friends, family and neighbours less than once a week, while one in 10 go for a month at a time without seeing any loved ones.
A recent survey carried out by the charity found that older people who experience loneliness miss simple 'everyday' moments, such as sharing a meal, holding hands, taking country walks or going on holiday.
Jim, 87, from Manchester, said: "Loneliness is like a heavy cloud hanging over you. I had long periods of isolation. The loneliness crept up on me and I became depressed, which made matters worse. When you're on your own you forget how to talk to people.
"Since then, I've moved into a wonderful housing community with Northwards Housing. Having someone to talk to – just small unimportant things - makes all the difference in the world."
For the study, researchers sought to determine how loneliness and social isolation influence the risk of early death by conducting a meta-analysis of previous studies.
The first analysis included more than 300,000 adults across 148 studies, while the second comprised 70 studies involving more than three million adults.
The team found the risk of premature death was 50 per cent lower for adults who had a greater connection with others, compared with those who were socially isolated.
Laura Alcock-Ferguson, director of the Campaign to End Loneliness, said: "Meaningful social connections are essential for human happiness. At the Campaign, we want to make loneliness everyone's business and show that we can all play a role in combatting loneliness in their community, whether as an organisation or an individual.
"At a national level, we're calling for the development of a UK-wide strategy for tackling loneliness and social isolation to help end this growing crisis."
The research was presented at the 125th Annual Convention of the American Psychological Association on 5 August.