John White found himself with time on his hands after his retirement and it was loneliness and a willingness to do something for someone with dementia that reunited him with an old friend from 50 years ago.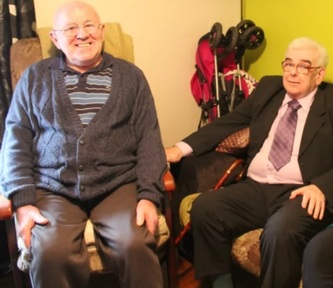 He was matched with a local with dementia who lived near him, coincidentally also named John, after signing up as a volunteer to Alzheimer's Society's scheme 'Side by Side' but he never realised their time together would reveal a friendship steeped in history.
So, when 56-year-old John White met up with John Campbell in his hometown in Newry, Northern Ireland, he was surprised to find it was the man with dementia who recognised him. It turned out they had both worked at Newry Steam Laundry from 1965 to 1969.
"When he heard my second name he said to me 'Oh! You lived in Courney Hill' and then I clicked! We had a great craic about old times."
For Mr White, the laundry was his first job when he left school at 15. His weekly visits to see the 67-year-old were like a much-needed tonic with tales of the two men chasing after girls, grafting in the steam mill and having what he describes as a lot of fun in a factory filled with young guys and girls his age.
"I loved working in the laundry. I was in the packing room. The girls used to do washing."
Clothes were folded and wrapped in brown paper. Labelled with a person's name and price, they were soon put in a van to be delivered. Each town had a different coloured label and Mr White made sure each package had the right label.
Of his work colleague he says: "He was putting the coal in the boiler to keep a certain temperature to create the steam."
Rising passions
With the high temperatures rose a few passions but love made fools of them both. "Me and John used to talk about girls. May Campbell. We got our hearts broke over the same girl.
"She was 5ft 9. Ginger hair. Pale complexion. Very good looking. I and John used to fight over her."
Not stumped for anything to talk about, the two hit it off straight away and found it was Mr Campbell who could recall a lot more of the past during John's visits to his home.
"We talk about history, politics and Gaelic football. Luckily, we both support the same teams – Liverpool, Celtic and Down. And we reminisce about people who we used to work with in the laundry and the things we used to get up to."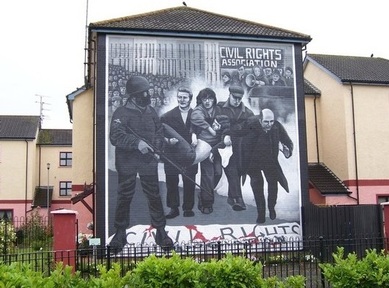 Raised as Catholics and living in the Northern Ireland border town of Newry, John White took Mr Campbell to church, something he had been missing. "John couldn't go out on his own because he wouldn't remember how to get back again."
After mass, they'd go shopping. Maybe have lunch at a restaurant. The two Johns have been out to the seaside and visited lots of museums. With a shared history, politics is another topic not forgotten..
The two men have made a visit to the Bogside area, a Catholic neighbourhood in Derry. Bogside, at the heart of a civil rights movement depicted by giant murals on its buildings, became a focal point of the Troubles particularly with 1972's Bloody Sunday - when British soldiers shot 28 unarmed civilians during a protest march. Mr White says: "He wanted to go to the border areas. John and I are very interested in Irish history."
Mr Campbell also has something to say about Arlene Foster, the leader of the Democratic Unionist Party (DUP) now holding 10 parliamentary seats in Westminster following the General Election. And he was not backward in telling Mr White he thought she was no good.
"He believes she'll do the best for her people but not the national side. He's been following the news. He doesn't like Theresa May. Me and John agree that she only bought the DUP."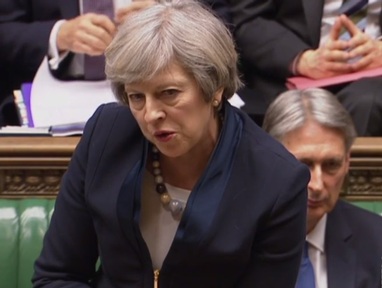 No love shared over fishing
One thing both men don't share is a love of fishing. But the volunteer is not regretful that his voluntary work is geared towards the person with dementia and not him.
"I don't like fishing. John does. He holds the fishing rod and reels it in. He's caught a lot of fish. Salmon. Trout. I take John out once a week. He loves the company.
"He loves the craic. John will say: 'Are you not bringing me out today?'. He wouldn't remember what we did. He might forget a conversation we had an hour ago. You could tell him something one minute and he'll ask you again 'Where are we going?' "
Mr Campbell can make a cup of tea but he may forget to turn the gas off. His wife Aileen, who lives with him, is blind with only two per cent of her eyesight. Mr White says of the 65-year-old: "To see her moving around you would find it hard to believe she is blind."
Before Mr White became a volunteer, he never went out or mixed with people very much. "I'm divorced", says the father of six who says of his family "They do their own thing."
Of the voluntary work he says: "My own mother was diagnosed with dementia when she was 50 and died when she was 70. In those days, there was no service. It was very much left to the families to do something."
After undergoing six weeks of training with the charity, Mr White arrived at John Campbell's front door. The Alzheimer's Society surveyed Mr Campbell's family before and after his visits and found positive results. Before his arrival, Mr Campbell had scored zero in areas including mood, communication, willingness to meet people and go out. But a recent survey after nine months with Mr White as a volunteer saw him score at least a five in all questions.
Mr Campbell's family now say he is making an effort to talk to people again. John Campbell had been showing signs of dementia for a few years but was only diagnosed with Alzheimer's disease and frontal lobe dementia much later.
Less isolated having a visitor who isn't family
His daughter Majella Campbell said her father always looks forward to John White's visits. She says: "Going down memory lane brightens up his day'. She adds it makes her father much less isolated having a visitor who isn't family and gives her mum a break and "a bit of alone time".
Piloted since 2014, The Alzheimer's Society's Side by Side programme pairs those with dementia with volunteers that have shared interests but it is always looking for more volunteers to help others stay connected and feel less lonely after a diagnosis. As for Mr White, he recommends becoming a volunteer to anyone who has a caring nature.
"I get great satisfaction out of it. I love seeing John. It's great to see him smiling and laughing. It gives the family a break and helps them too." He says his love of the voluntary work has even led to him to discuss "taking another person on as well."