A progressive home care boss in Hastings, who visits his clients in a brand new electric car, thinks the idea might catch on, and jokes, 'I can park for free if I go to Brighton!'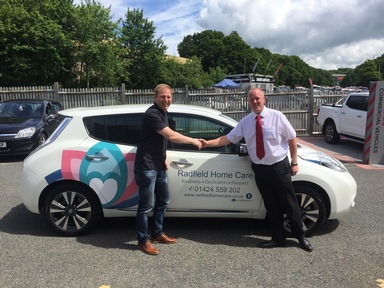 Samuel Holmes, director of Radfield Home Care Hastings and Rother recently purchased a Nissan Leaf, which has almost become a mascot for his home care agency. Explaining the difference it has made to his working day, he said: "Everyone who travels in it loves how quiet and comfortable it is and I love driving it. They are perfect for a care company operating over a relatively short area and I don't have anything negative to say about owning an electric car so far.
"Electric cars are initially more expensive but I can charge it publicly for free and will never have maintenance costs to worry out. I can even park for free if I go to Brighton!"
Although being the owner of a care business, Mr Holmes is very keen to be as green as possible and had been toying with the idea of using electric cars for a while. He said: "I have been keeping an eye on the availability of electric cars for some time as I really believe our communities would benefit from reduced air pollution. They are also very cost effective to run and once I saw and drove the Nissan Leaf I knew instantly it was the right car."
A combined passion for care and the planet
Mr Holmes is no stranger to the care industry. He entered the sector more than 20 years ago, working with people with learning difficulties and going on to become a social worker.
After concluding that he was "particularly skilled" at coordinating health and social care services to support complex patients live independently, he is now a home care agency owner, with a combined passion for care and looking after the environment. One major part of his green credentials is his company's certification as a B Corp company.
All companies that are certified B Corp are required by law to consider their impact on society and the environment as well as creating profit for shareholders. The group he is part of has achieved this status.
Mr Holmes said: "Becoming Certified B Corp means that all aspects of Radfield Home Care's business have been scrutinised and that the company has been accredited with an ethical stamp of approval."
He encourages other home care owners to become greener with the words: "Don't be afraid to try new ideas but do your research and perhaps pilot something before you adopt it across the business."
'All just a gimmick' without good care
Although Mr Holmes is keen to promote more innovate and green care ideas to other care providers, he is the first to point out that without prioritising good care, it's all just a gimmick.
He added:"Never lose sight of the fact that good quality home care can transform people's lives and should enable people to achieve far more than meet basic, practical needs.
"At its best, home care supports people to develop real relationships, meet friends, and be part of a community."