Girl guides as young as five have been visiting lonely older people in Manchester to combat social isolation and to earn themselves a brand-new badge.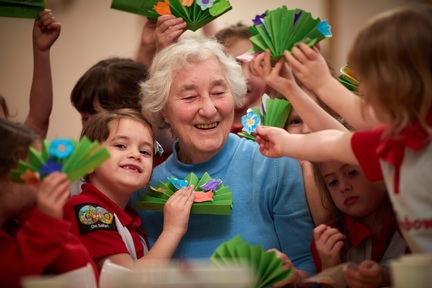 Rainbows, Brownies and Guides can typically earn badges for skills such as playing a musical instrument and learning to cook, but to earn the new award, children are encouraged to spend time with the elderly in their own homes and in sheltered housing accommodation.
The scheme was launched by Girlguiding in Manchester and has expanded to all 5,000 Rainbows, Brownies and Girlguides in the city.
Ian Williamson, chief accountable officer at Manchester Health and Care Commissioning (MHCC), said: "We know that loneliness can be devastating in both its physical and psychological effects, especially for older people. There's so much evidence to show how it contributes to lowering the immune system and making people more prone to illness as well as a major impact on wellbeing. If youngsters know this, they can lead by example and raise awareness of an issue that we can all help to solve."
Most people will feel lonely at some point in their lives, but according to Age UK, over one million older people are estimated to be chronically lonely, with around 200,000 older people not having a conversation with friends or family in over a month.
The pilot badge, launched just before Christmas, was set-up with the help of Veronica Armstrong, a former Brownie. The 67-year-old from Northenden, said: "Me and my age-group have the time to spend with children and we can give them a different view on life. We also have skills we can show them like sewing, learning to knit and doing gardening
"Plus, a lot of my friends miss their families because they don't live near their own children or grandkids – and they would really like to have that ongoing involvement with children's projects."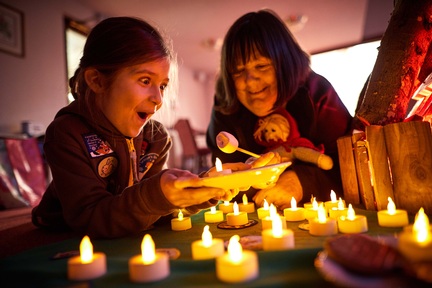 So far, some of the visits have included Brownies and Rainbows putting on a play at a sheltered housing court in South Manchester, and arranging a special indoor camp fire with story-telling and craft sessions.
After visiting the sheltered housing court one Rainbow said, "I made a new friend, [Margaret 72], when can we come again?" and a second said, "I like doing our activities together".
As well as making links in their communities, Helen Salvini, assistant county commissioner at Girlguiding Manchester, thinks the badge will help "our members become safer, more independent citizens by teaching them skills like personal safety, first aid and how to take care of themselves and others."
She said: "Young people are often portrayed poorly in the media so it is fantastic to have this opportunity to showcase all the good work that they do."
Councillor Bev Craig, executive member for Adults Health and Wellbeing at Manchester City Council and deputy chair of Manchester Health and Care Commissioning, added: "This award is a badge of success in many ways. Intergenerational work engenders respect and a better understanding of the different ages – and stages – that make up our vibrant city."