Nine in ten hospices across England have been rated either 'good' or 'outstanding' by the Care Quality Commission (CQC), 'outstripping the performance' of any other service.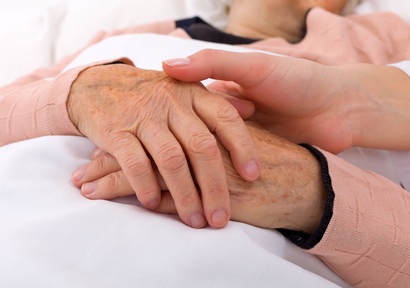 The CQC's report titled 'State of Hospice Services in England 2014 to 2017', shows that a quarter of all hospices (51 services) have achieved the regulator's 'outstanding' rating, compared to only six per cent of NHS acute hospitals, four per cent of GP services and two per cent of domiciliary care agencies, nursing homes and residential homes.
Jonathan Ellis, director of policy and advocacy at Hospice UK, says the ratings highlight the 'remarkably high standard of care' hospices provide. He said: "At a time when there is growing public concern about the quality of care that people receive in the health and social care system, hospices are demonstrating that it is possible to deliver expert care with compassion.
"It reflects the expertise, passion and commitment of hospice staff and volunteers and the strong leadership and positive work culture within the sector."
Across many of the services regulated, CQC inspectors found hospice managers and frontline staff displayed a strong commitment to providing person-centred, compassionate care as well as developing good relationships with other local services.
Inspectors also noted that 'outstanding' hospice services were able to overcome inequalities and share best practice with other services.
One example highlighted in the report was an exchange programme for nurses run by St Ann's Hospice in Salford via a partnership with Central Manchester University Hospitals NHS Foundation Trust.
The scheme offered nurses a five-day placement on haematology, gastroenterology, respiratory or cardiac wards. Nurses from the Trust were also invited to take up a placement at St Ann's, which enabled both sets of staff to learn new skills and experience working in the different care settings.
One nurse said: "It has been a huge benefit to me and my personal development. I've really enjoyed it and it is really good to see the journeys people have been on and the care they receive. It has really helped with referrals and I've learnt things I had never encountered here which can only be a good thing."
Inspectors also noted that Dorothy House Hospice Care, near Bath, has been working with local partners to support homeless people to access better end of life care.
One nurse assisted a man with terminal liver disease to access hospice services. At the time, he was living in his car, often resisting and refusing support and could not access services as he was not registered with a GP.
The nurse worked with different services to make them aware of his situation. There were improved outcomes for the man, who went on to live in a hostel with district nurse support after a short stay at the hospice.
Andrea Sutcliffe, chief inspector of adult social care at the CQC, said: "People often access hospice care at a time when their complicated health and social care needs have to be met alongside compassionate emotional support. This is not a simple thing to do.
"It was clear from our inspections that the vast majority of hospices have the needs of people and their families at the centre of their work. It is particularly encouraging to see services committed to continuing improvement reach out to groups they had little contact with in the past to understand the obstacles they have faced and how they can support them better now and in the future.
"To see dedicated staff have such careful consideration of the whole person and their needs was a privilege for inspectors and something I would encourage other services to learn from."
Around 217 hospice services are registered with the CQC, caring for around 200,000 people a year with terminal and life-limiting conditions.