Photographer and competitive tennis player, Alex Rotas, is on a mission to explore the process of ageing while challenging the negative stereotypes so often portrayed with growing old.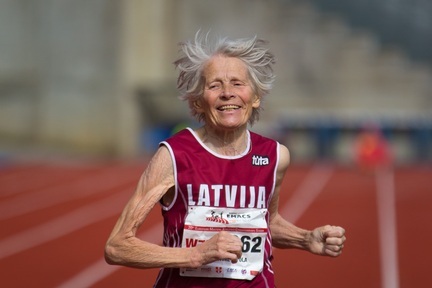 The 68-year-old travels the world documenting the athletic achievements of older people and has just returned from The European Masters Athletics Championships in Aarhus, Denmark, where she watched 92-year-old Dalbir Singh Deol win three gold medals in the 100m, 200m and 400m sprints.
"I'm half in tears and half in awe watching these amazing athletes and what they achieve in their 60s, 70s, 80s and 90s," said the Bristol-based photographer.
"I'm in awe at the physicality of these people, I'm in awe when they tell me about their training regimens, which would put many youngsters to shame, and I'm in awe when I hear about the hip and knee replacements they've been through, the cancers, the heart surgeries and the strokes.
"They are no more immune to the illnesses and health conditions that come with living a long life than all the rest of us. They simply get through them, they grit their teeth, take their medication, rest their knees or hips for a while, and then get back on track, back doing the sport they love amongst the community they belong to."
'It's inspirational to photograph on every single level'
Ms Rotas took up photography eight years ago and has spent much of her time since then looking through the lens at older sportsmen and women, attending championships in France, Finland, Turkey, Germany, Italy and Hungary.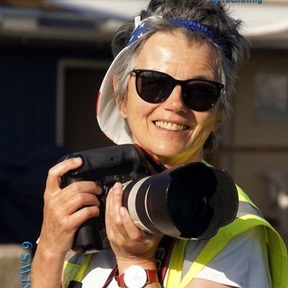 Her projects are motivated by a desire to challenge the assumptions associated with ageing, assumptions that link growing older with decline, passivity, increasing helplessness and physical and mental deterioration.
"Older athletes transgress these commonly held attitudes: they are determined, very physical and active, focused, joyful and full of life," she said.
"They show that it's possible to look wonderful without pretending to be younger than they are. They have all the lines and wrinkles that come with their age but they look incredible as they push themselves physically and mentally to achieve new goals, and it's not only their athleticism that comes through, it's their joy."
In 2014, a poll revealed that eight out of ten British people – aged 50 and over – worry about the perils of getting old, with four in ten worrying about ageing so much, it keeps them awake for an average of two nights each week.
'It's made me re-calibrate my own sense of what the ageing body can do'
"This is because of the perceived image of the elderly – one which conjures up old people slumped in chairs," explained Ms Rotas. "But nothing changes as you age. There isn't a magic number after which you are 'old' and therefore somehow different. So I always try to capture the intensity of expression on an athlete's face – whether it be of effort, of exhaustion or of joy. In that way I hope that my work challenges the common portrayal of older people as frail, immobile, lonely and depressed."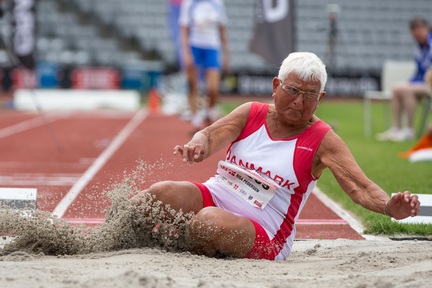 Since photographing older athletes, the retired academic's attitude to ageing has transformed. She has recently taken up ballet, enjoys tennis and swimming, and is proud to be an England Athletics 2017 #RunTogether Ambassador.
"Watching older people achieve the most incredible athletic feats – that I never imagined possible – is very moving and has made me re-calibrate my own sense of what the ageing body can do," she revealed. "We're all used to seeing photos of athletes but not perhaps these sorts of athletes. And while not everyone can be – or even wants to be – an athlete, I hope that my images remind us all of what's possible as we age.
"I've also realised that we're not nearly as fragile as I'd thought we were as we age," she added. "To start with, when I watched women in their 80s and 90s compete in the long jump event, it terrified me to see them fall on their hands and knees in the sand. 'Osteoporosis!' I thought. 'Surely they'd break their wrists?' But I've learned that no, they don't, and that by the same token, I don't have to be quite so fearful myself of taking a few more physical risks."
For more information on Ms Rota's 2018 calendar and latest book, titled 'Growing Old Competitively', go to: www.alexrotasphotography.co.uk.