An elderly man has become an internet sensation after taking regular make-up classes, so he can learn to do his wife's make-up before she turns blind.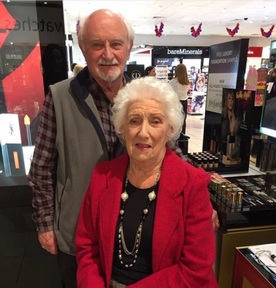 Brian and Jean regularly visit the beauty section of a department store in Glasgow to learn the latest tips and tricks.
Touched by the couple's dedication, Scott Summers, a store employee, shared their story across various social media platforms, along with a photograph that has since gone viral.
He wrote on Twitter: "Why I love my job so much! Meet Jean and Brian, two of our very loyal customers. Brian was in for another make-up lesson today as he does his wife's make-up everyday as she is going blind, such a wonderful couple who live their life to the full!"
The heartwarming image of Brian standing proudly next to Jean, who is sporting a fresh face of make-up, has been shared on Reddit, Facebook, and Instagram, and amassed more than 220,000 likes and 72,000 retweets.
Overwhelmed by the couple's story, Twitter users have left several comments. Some simply commented on what an uplifting story it is. "That melts my heart," said one person, and another added: "What a truly lovely story."
As of 2015, over two million people in the UK are living with sight loss. According to The Royal National Institute of Blind People, one in five people aged 75 and over are living with sight loss and nearly two-thirds are women.
There are four known major causes of sight loss including; macular degeneration, glaucoma, cataracts and diabetic retinopathy.
For more information visit: www.rnib.org.uk