While the Christmas build-up is a time of excitement for many, for the thousands of older people living alone, it signals a countdown to the time of year when feelings of isolation and anxiety can be at their greatest.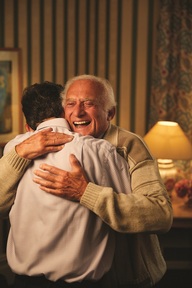 As part of its annual Companionship at Christmas campaign, care homes belonging to Abbeyfield Society will open their doors for six weeks to provide overnight stays, meals and entertainment for people affected by loneliness, completely free of charge.
With an estimated 500,000 older people expected to spend Christmas alone, Abbeyfield chief executive, David McCullough, said: "The Christmas build up resonates with excitement and celebration for many of us, yet it's a time when older people can feel at their most isolated and alone. Their usual clubs or activities close down for Christmas, relatives are dotted across the UK far away from them and feelings of bereavement for lost loved ones is amplified at a time when families traditionally come together.
"Abbeyfield was founded over 60 years ago in response to the crippling loneliness endured by a forgotten generation of older people. That ethos continues today with campaigns such as Companionship at Christmas as Abbeyfield continues to enrich the lives of older people and make their later years happy, easy and more fulfilled."
Now in its eighth year, Companionship at Christmas has offered a lifeline of warmth and friendship to thousands of older people at Christmas, such as 83-year-old Ron Hoverd, who lives on the Isle of Wight.
The former RAF corporal and his wife, Mary, were inseparable during their 45-years of marriage but her death left him devastated and struggling to cope.
Ron said: "I couldn't have had a better woman which made losing her so difficult. I watched her die, which was heart-breaking. After the funeral I reached rock bottom and was struggling to get by. I was so lonely. Everything was so quiet."
For Ron, who has no immediate family, Christmas was one of the most difficult times. "There's nothing worse than being on your own at Christmas," he said. "You know you're supposed to be enjoying yourself, but you're sat there by yourself, wishing the day would end."
Age UK put Ron in touch with his local Abbeyfield House in Cowes, where staff invited him to join them for Christmas Day lunch, and since then, he has become a regular at Abbeyfield Clifton House.
"It's a lifesaver from my point of view," he said. "It means so much having Abbeyfield there."