Bread making has been found to have therapeutic benefits for people with mental health issues, triggering an increased sense of happiness and creativity.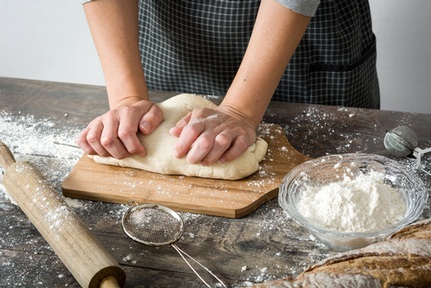 A report on Together We Rise: Bethlem Baking Buddies, an initiative where people with mental health issues at Bethlem Royal Hospital took part in baking sessions, showed the potential baking has as a therapeutic activity.
All of the people that took part in the baking sessions run by Real Bread Campaign, said that they had made them feel happier, creative and given them a sense of achievement. Many of them also said that baking had made them feel relaxed, given them a sense of purpose and made them less anxious.
Campaign co-ordinator Chris Young, who wrote the report, said "What we found further supports the Campaign's belief that making Real Bread can offer therapeutic benefits to some people who are experiencing mental health problems, and that therapeutic baking deserves further study, funding and even made available through social prescription."
The sessions in Kent were facilitated by Gaye Fisher, a Real Bread Campaign supporter and Bread Angel, who runs the Sticky Mitts microbakery and baking school in Surrey. She worked alongside occupational therapist Jenny Shaieb, deputy head of Bethlem's OT department, who previously trained and worked as a chef.
In the first week, participants learned to make a simple, white dough, which they used to make bread twists. Subsequent sessions were based around this same basic dough, with different shaping and additional ingredients.
Peter O'Hare, head occupational therapist at Bethlem added: "This wonderful project confirmed what we intrinsically believed: that bread baking has tremendous potential as a therapeutic activity which can also foster and enhance community engagement and cohesion."
Together We Rise: Bethlem Baking Buddies and Rising Up are both available to download at: www.realbreadcampaign.org