Ursula Shepherd has been making national headlines after learning to read at the ripe age of 88, but as she explains to homecare.co.uk, when she was younger there were few opportunities for people who had learning disabilities.
Today she thinks 'things are different' and urges anyone who can't read to follow her lead and explore adult education classes rather than feel 'embarrassed'.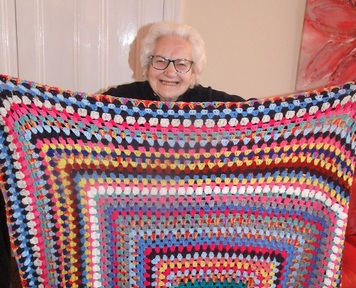 At school, 'I was overlooked in class and sat at the back'
One of the most striking things about Ms Shepherd's tale is the sense of missed opportunity; of not being able to read for most of her life. She has always had to rely on others to read for her. Learning disabilities weren't understood in her youth, and those who needed extra help with reading and writing didn't always get it.
But Ms Shepherd, who lives in Exmouth, Devon, doesn't have any animosity about her childhood days, stating matter-of-factly: "I was overlooked in class and sat at the back and turned the pages over of my book when I saw everyone else did.
"When I worked labelling bottles after I left school, I didn't need to learn to read. I've also lived with care and support for most of my life."
When Ms Shepherd left school as a teenager in the 1930s, things clearly weren't much better. Because of the nature of her job, there wasn't the opportunity to further her reading skills or have any room for 'self-improvement', which she regrets, however, she does say: "A long time ago I worked in a factory to do with a dairy, and also labelling bottles, and didn't need to learn to read or write, but now things are different".
Things certainly are different for Ms Shepherd today as she has made reading appearances on ITN national news, Sky News and This Morning, proving it never is too late to learn to read.
Ms Shepherd first started to read as part of Devon County Council's adult education service a couple of years ago and hasn't looked back ever since. Living with her carer, Lesley Waller, as part of the Shared Lives South West scheme helped give her the confidence to start learning late in life, and things escalated from there.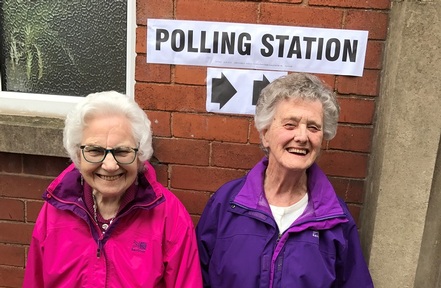 Following on from her inspirational progress, Learn Devon have started holding weekly classes specifically for people who want to learn to read and write. Ms Shepherd modestly says: "I had this opportunity at Learn Devon and the reading lessons are right near to where I live.
"I lived in the country for many years and never needed to learn to read. I'm now learning to write and can put together small sentencing and am getting better with time."
'I went to vote in the elections and could understand what was going on'
One thing that is evident from all the TV and press coverage garnered, is her sense of glee at being able to finally read. She explains: "I felt I was missing out. Lesley had to help me read my knitting patterns which is something I love doing. I can now read my knitting patterns a lot easier and really want to read romance novels. I also went to vote in the elections and could understand more about what was going on."
Learning to read has opened up a whole new world for Ms Shepherd. As well as being able to participate in things such as elections, and be able to understand her beloved knitting patterns, it has made her social life more enjoyable. She says, excitedly: "I also like going out for dinner and lunch with Lesley, my carer, and Marjorie who also lives with us and I can now read the menus a lot easier."
Ms Shepherd can even enjoy some new hobbies after she was gifted a yearly subscription from The Mirror and was presented with a free Kindle from Amazon, amongst other things. She enthuses: "I was given a Kindle by Amazon, which I needed help using, it's such a lovely gift and I was also given a writing set when I went on 'This Morning' by Eamonn Holmes and Ruth Langsford. It was such a wonderful experience."
'Don't get embarrassed or shy if you can't read'
For a BBC Devon video, in November 2017, Ms Shepherd faced her toughest audience yet; to read to some children from a local school. After reading them the Charlie and Lola book, 'I will not ever never, not eat a tomato' by Lauren Child, she thankfully passed the test, with one child saying she thought her, 'infinatively clever.'
This was a massive milestone for Ms Shepherd, as her initial goal was to be able to read to a group of children. She says of the experience: "I loved it, it made me smile. It was lovely to see all their happy faces. I really enjoyed it. I hope to take a reading exam in the New Year."
Ms Shepherd has loved the whole process of learning so much, and it has changed her life so incomparably, that she has very ready advice for anyone learning to read for the first time. She says: "It really is never too late to learn. I'd say don't get embarrassed or shy if you can't read. I hope I can inspire others as learning to read has been life changing."