Carla Chappell pampers, primps and chats to older people who live alone at home, giving her own special brand of makeovers, waxes, beauty tips and anything else they want. This includes updates on the latest fashion or trend – as well as advice on how to join the dating site Tinder.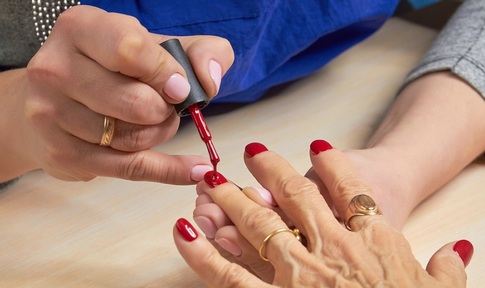 The mobile beauty therapist works alone running her company Little Treats Beauty and has for the last five years been offering anything a beauty salon can do and more to elderly and disabled clients in their own homes.
Didn't want 'conveyor belt' clients
On the question of what appeals to her most about giving beauty treatments to older people she says: "I was a mobile beauty therapist before specialising in elderly and disabled clients.
"This was because I didn't want to work in a salon environment. I didn't want to go down the route where your clients are basically on a conveyor belt, I wanted to give a more personal approach.
"I started doing my disabled mother-in-law's feet and realised there were people who were housebound, elderly etc who couldn't get to salons, so incorporated it into my business.
"I currently have around 25 but this changes all the time. I go into a few sheltered accommodation places and am always being recommended to other residents.
"I offer manicures, pedicures, massages, facials, waxing, body treatments, Hopi ear candles... anything they can have done in a salon, they can have with me."
The most popular treatment requested is pedicures and "unlike chiropodists, I give the full works for feet, which they love."
Ms Chappelle is able to adapt her beauty treatments to meet each one of her clients' needs. "If they want a massage but can't get onto the table that's fine. I will do it with them sat on a chair. I have a flexibility that salons and spas don't have."
Tinder talk
When it comes to memorable moments with clients, the Ms Chappell says she has "too many to say".
"I told one of my ladies about Tinder and the next time I visited she had joined up.
"I've helped another with computer issues. I've assisted with feeding animals. One recently had a Halloween party in their residential home and asked my advice on what to wear.
"I'm more than a beauty therapist to most, they enjoy me visiting and telling me what they've been doing.
"They do love to talk about their past and where they lived prior to where they are now. A lot of my ladies are widowed, and they love telling me about their late partners."
When asked whether many of 'her ladies' are lonely she says: "A lot of my clients are lucky in that they do have family locally."
Ms Chappell's Little Treats Beauty business covers Wokingham, Earley, Woodley, Binfield, Winnersh, Twyford. But she can travel further afield if requested.
Addressing the most challenging aspect of her work, she says: "I have a couple who seem to forget that I am running a business, and will ask to chop and change their appointments which can get frustrating, I think they do see me as a friend.
"Dementia clients are often challenging but I just keep them chatting about the past and they are generally okay. It's the present that confuses them."
But the most rewarding aspect of her job is "giving clients a treatment that leaves them relaxed and pampered".
"A lot have never have that luxury, so to them it is pure bliss.
"Leaving their feet looking all nice and soft with painted nails is fantastic, especially the ones who refuse to have them painted when I first visit."
Looking for a job in home care? Visit homecare.co.uk's jobs page