A 95-year-old woman who spent three decades volunteering at a bereavement centre, has decided the time has finally come to retire, leaving behind a 50-year legacy of helping people.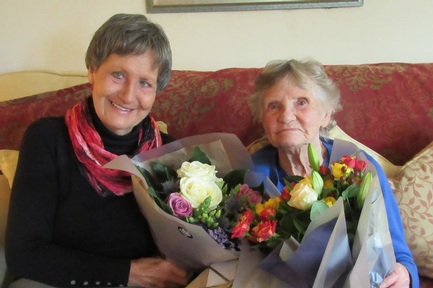 Helen Lyons, who has spent the last 36 years of her caring career volunteering at Cruse Bereavement Care, where she has helped and supported hundreds of bereaved people in South Derbyshire, said: "I've been volunteering for 50 years at least, 36 of which were at Cruse. I initially started the volunteering when a secretary for the charity asked me if I would be interested and I said that I was.
"At the time I understood that people needed more than just social talking to help them grieve. My eldest son had just died from a brain tumour and we couldn't get help anywhere, so I knew what it was like."
A shoulder to cry on
Whilst working for Cruse Bereavement care, Ms Lyons from Doveridge, was trained to provide emotional support to adults and young children. She also spent many years visiting bereaved prisoners in Sudbury and Foston prisons to help them deal with the death of a loved one.
"Some of the people I helped were so distressed they could not go out and meet people normally," she said. "I was often involved in helping those people recover."
She added: "It was wonderful when their faces lit up after they told me that they went out and saw someone they knew without having to be taken by someone else."
When Ms Lyons stopped driving a couple of years ago, her husband took up the job of driving her to her Cruse meetings and appointments.
They have both since received the Bishop's Badge for services to the church and community through their voluntary work.
'A source of inspiration'
To mark the milestone, the Derby and Burton branch of the organisation held a special celebration morning for Ms Lyons, to thank her properly for her help and support over the years.
Referring to Ms Lyons as a 'loyal supporter', Pam Sutton, chairman of Derby Cruse Bereavement Care, said: "She was originally a registered nurse and she and another lady thought that there was a need for better support services in the Burton and Derby area. They founded the Burton Cruse organisation which ultimately merged with Derby Cruse to create what we have today.
"She has had many hundreds of clients over the years and has gained qualifications to work with children from age five and upwards in Burton, Derby and the whole of Southern Derbyshire," she continued.
"Her whole demeanour is lovely, kind, very modest and very humble. She is a big source of inspiration to all our 70 Cruse volunteers, especially through her continuation of volunteering to such a great age. We are very sorry to see her go and will miss her tremendously, but we are very, very grateful for all the work she has done for us."
Cruse Bereavement Care is a national charity providing bereavement support services in England, Wales and Northern Ireland. Cruse offers free face-to-face, telephone, email and website support for children, young people and adults who are bereaved.
The charity has been fundraising throughout December with a JustGiving page and has so far raised more than £7,500. For more information visit: www.cruse.org.uk