A rise in the number of road accidents involving people over the age of 70, has led police to warn elderly drivers to check they are still safe to drive.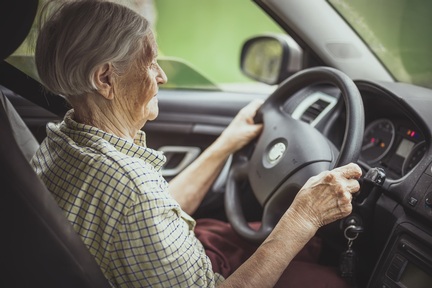 Failing eyesight and age-related conditions such as dementia is affecting Britain's ageing population and has become a cause for concern for police officers in the county of Essex who argue statistics show elderly drivers are becoming more of a risk, even though they use the roads less than other motorists.
Between 2014-2016, drivers aged 70 or older were involved in over 12 per cent of road incidents in the county where somebody was killed or seriously injured even though they had only clocked up seven per cent of the total number of miles driven.
Poor eyesight causes woman over 80 to almost knock down child
Cases of bad driving by elderly motorists include that of a woman aged over 80 whose car nearly hit a child in Colchester on November 16. Police officers were sent dash cam footage of a red Ford Fiesta almost crashing into a child who was walking on a zebra crossing at 4.20pm. The child only avoided getting hit because he jumped back away from the car in time. The woman failed to stop at the scene, resulting in police investigating.
In a statement Essex Police said: "We attended the registered address of the driver and gave them an eyesight test, which she subsequently failed. Her licence was immediately revoked using powers under Cassie's law and she is no longer on the road."
Cassie's Law was introduced after 16-year-old Cassie McCord was killed by a driver with poor eyesight. She was on her way to college in Colchester in 2011 when 87-year-old Colin Horsfall's car drove into her on the pavement. The driver died three months later from his injuries. PC Rob Andrews from Essex roads policing unit said: "Having a licence revoked can be devastating for many people as it comes with a loss of independence.
"Where possible we will do what we can to keep people on the roads. However we have a duty to protect these drivers as well as the thousands of other people who use the roads of Essex."
The police are asking anyone who may be concerned about their ability to drive, or a relative's ability to drive to contact them and they can then arrange a health assessment.
'Often receive calls from public' concerned about elderly drivers
PC Andrews said: "We often receive calls from members of the public concerned about their elderly relatives' safety behind the wheel and where appropriate, in these cases our officers will have a conversation about their circumstances and discuss the implications their health could have on their driving ability. "
Road charity The Royal Society for the Prevention of Accidents (ROSPA) states on its website: "Age-related conditions can eventually mean that there is a point when we must give up driving. However, this point is different for each individual person; there isn't an age at which all drivers become unable to drive safely.
"Reported statistics indicate that the risk of being involved in an accident increases after the age of 70, and up to that age drivers are no more likely to cause a crash than to be the victim of another road user's mistake. However, drivers over 70 and especially over 80 years, drivers are more likely to be at fault when they crash.
"Underlying health conditions, and some types of medication taken to treat those problems, are a more common factor in accidents involving older drivers. Indeed, a proportion of older driver fatalities occur when a driver dies of natural causes while driving, and their vehicle immediately crashes.
"Older drivers are commonly involved in collisions at junctions, often because they mis-judge the speed/distance of other vehicles or fail to see a hazard."