With snow and ice on Britain's pavements, falls are fatefully common in 'Chrismassy' weather for those over 65 - as one elderly person will die every seven minutes from the cold each winter.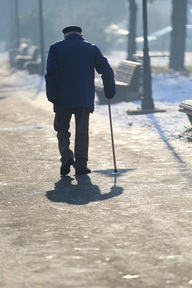 That statistic comes from Age UK. For every degree Celsius that the winter is colder than the 30-year average, there are 5,000 deaths associated with that one degree Celsius change.
The Met Office has forecast a high probability of severe cold weather, icy conditions and heavy snow in England until 14 December. Cold weather alerts are issued by the Met Office when the winter weather is most likely to significantly impact people's health, i.e. when the mean temperature falls below 2°C for 48 hours and during heavy snow or during widespread ice.
But when a fateful sheen of ice is on the ground, broken hips and other physical injuries can leave long-lasting scars on the elderly as falls can lead to hospitalisation and prolonged ill health which many fail to recover from. A third of those over 65 are estimated to fall down every year. Age UK says falls and fractures in people this age group account for more than four million hospital bed days each year in England alone. But even the fear of falling means one in ten people who've fallen are afraid to leave their homes again.
But falls are not the only hazards likely to endanger people in this age group when the mercury is low on the thermometer. The older you are, the longer it takes for your body to warm up.
Cold thickens the blood
The cold thickens the blood, increases blood pressure putting you at greater risk of a heart attack or stroke. Breathing in cold air can increase the risk of chest infections. Worsening arthritis and increased accidents at home can also kick in.
Older people find it harder to maintain their body temperature than younger people. From the age of 55, a person loses one per cent of their muscle mass every year. This is significant, as some 70-80 per cent of a person's ability to produce heat to maintain body temperature comes from muscles.
'Fuel poor' elderly afraid to heat home
The problems of wintry weather don't go away when older people gets home. Fuel poverty remains an ever-present danger. A 'fuel poor' household spends more than the UK average on its energy bill which pushes the household below the poverty line. Almost a third of people in fuel poverty in England are aged 60 or older.
Some elderly are afraid to turn the heating on, only heat one room, skip meals or stay in bed all day. As well as these limits to physical health, mentally this predicament can result in an older person's spirits taking a dive, resulting in anxiety, loneliness and depression.
Older people's Top 10 fears
According to Home Instead Senior Care, the top ten fears of those aged over 65 include loss of independence (number one), declining health, running out of money, not being able to live at home, isolation, loneliness as well as a fear of falling.
Home care staff can play a part in saving lives by looking out for warning signs that an older person is at risk this winter. Home care visits to someone living alone should watch out for signs a person is at risk. Is the home cold? Damp? Does the person have difficulties paying the heating bill? Do they have prescriptions for lung and heart conditions? Have they been sent to hospital for a fall in the past? Living rooms must be heated to 21C and bedrooms at 18C.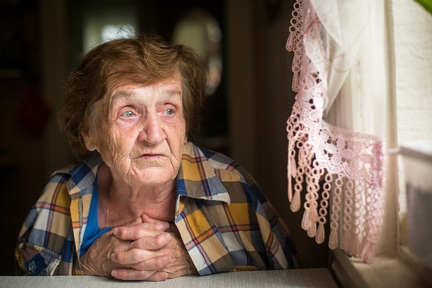 Home care staff can follow NICE guidelines on how to reduce the risk of death and ill health when living in a cold home.
Affinity Homecare tweeted on 11 December: 'Even through the worst of weather, we are there for our service users every day, however please consider your elderly neighbors in the snow, and small things you can do to help!'
Getting help from others on days when the weather stops people leaving the house can be Life-saving. Helpful neighbours who sprinkle salt on their driveway, do the weekly shop or simply pop over for a chat can make all the difference and brighten up an older person's day.
Even policemen have taken to Twitter to highlight the potential plight of older people home alone this winter. PC Rob Stevens from Northants Police tweeted: 'With having such cold weather, keep an eye out for your elderly and vulnerable neighbours!'