Loneliness is 'not inevitable' and we all need to be responsible for tackling the problem, according to a new report by the Jo Cox Commission on Loneliness.
The commission which was created by MP Jo Cox before she was murdered, would like the Government to set up a national strategy for loneliness for all ages.
Its report 'Combatting loneliness one conversation at a time: A call to action' is also calling for a 'minister for loneliness' as well as a Family and Relationships Test to assess the impact of Government policy on families and communities.
Seema Kennedy and Rachel Reeves, co-chairs of the Jo Cox Commission on Loneliness said: "This report shares the ideas the Commission has worked on over the past year, and it challenges national Government to step forward and lead a renewed push to tackle loneliness. But we know that loneliness will not end until we all recognise the role we can play in making that happen."
Onus is on everyone
Laura Alcock-Ferguson, executive director of the Campaign to End Loneliness, one of the charities involved with the commission, reiterated that the onus is on everyone, saying: "The report makes clear that we all have a responsibility to end loneliness. From businesses to Government to charities to individuals – everyone can do something. Together, we can change attitudes, behaviour, policy and practice, and inspire action to end loneliness."
She added: "The health impacts of loneliness - both physical and mental – are devastating. Loneliness is as bad for our health as smoking 15 cigarettes a day, and worse for us than obesity."
Jo Cox's Campaign to End Loneliness
Jo Cox had become concerned about the issue of loneliness in her constituency before her death in June 2016. The Campaign to End Loneliness came into being as a response from friends, family and colleagues to deal with some of her issues about isolation in modern British society.
Recent research from the Campaign to End Loneliness reveals that 89 per cent of people fear that loneliness in older age is now more likely than ever. This rose to 93 per cent when those aged over 65 were asked. Also, more than half of British adults said that admitting to loneliness was difficult for them.
Three quarters of over-65s (76 per cent) confessed that they would find it hard to admit to feeling lonely because they do not want to be a burden.
Caroline Abrahams, charity director at Age UK said: "It's been a great privilege to be part of the Jo Cox Loneliness Commission over the past year and to have had the opportunity to input into the final report. With millions of people affected, including 1.2 million chronically lonely older people, it's clear that loneliness is a serious social problem in our country that we cannot and should not ignore.
"The impact of loneliness can be devastating – mentally, emotionally and physically – and while there is no quick fix, we can all do something to change things for the better: a simple act like saying hello and having a chat can brighten up an older person's day and do more good than most of us would ever guess."
Lolita's story
Lolita, 76, who lives in Neath, Wales, revealed in the commission's report how loneliness had begun to 'grind her down'.
In 2016 she had her third stroke and was left with limited mobility, using a wheelchair to get about.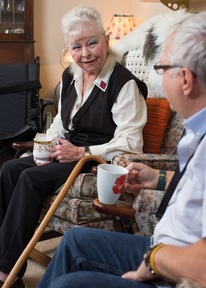 Lolita was unable to leave the house because she had been discharged from the hospital without a care and support package, and it wasn't long before loneliness took its toll. She said: "After a time, I thought 'I can't be bothered anymore.
"I didn't want to have a shower in the morning. I was getting so depressed. I wasn't eating, I was losing weight. I've gone through a lot in my life and always bounced back but this …. every door was closed to me."
Lolita soon realised that she needed to deal with her loneliness, and called the Royal Voluntary Service. She was matched up with a volunteer named Eddie who started visiting once a week to take her out.
Little by little, Eddie's visits started making Lolita feel more hopeful for the future again. She said: "One day we were sat in a café and Eddie started telling me a story from his days in the Merchant Navy. I could hear this laughter. I looked around, and it was me! And I thought, 'Well, there is hope.' It's raised my spirits and made such a difference."
The positivity of Eddie's visits has given Lolita the strength to deal with certain practical elements of life too. She can now liaise confidently with her housing provider to sort out the lifts in her building, in order that she can stay independent. Lolita has also made plans to join the University of the Third Age.
She says that since Eddie's visits, "every aspect of my life has just changed. All I wanted was the contact with somebody else – and actually, it helped that it was someone new." She added: "Eddie reminded me that I'm actually pretty good at talking to people – you lose a bit of that confidence when you're in a wheelchair – people talk to you like you're deaf or a bit screwy."
Click here to read the report.