The ongoing storyline played out in the media about whether or not President Donald Trump is fit to be the leader of the free world, has taken a new plot twist with Michael Wolff's new book claiming White House aides believe the President could have dementia.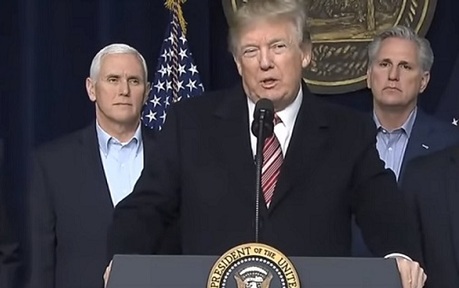 In an interview about his book 'Fire and Fury: Inside the Trump White House', which was published on 5 January, journalist Michael Wolff says Trump struggles to read. "They discuss it at the White House: His apparent inability to read one page or one paragraph" of documents given to him.
Donald Trump has also 'failed to recognise a succession of old friends' at a New Year's Eve party in Mar-a-Lago, claims Mr Wolff who said he wrote about Donald Trump after spending a year with him.
In response to the book's claims, President Trump took to Twitter to talk about his mental health stating: 'Actually, throughout my life, my two greatest assets have been mental stability and being, like, really smart.'
Bizarrely in another tweet, the US President compared himself to the US President Ronald Reagan who developed Alzheimer's Disease. Ronald Reagan, who was the US President from 1981 until 1989, died of Alzheimer's in 2004. His son Ron Reagan has said Ronald Reagan had Alzheimer's while he was the President.
'Reagan handled it well'
Mr Trump wrote on Twitter: 'I've had to put up with the fake news from the first day I announced that I would be running for President. Now I have to put up with a fake book, written by a totally discredited author. "Reagan had the same problem and handled it well. So will I!'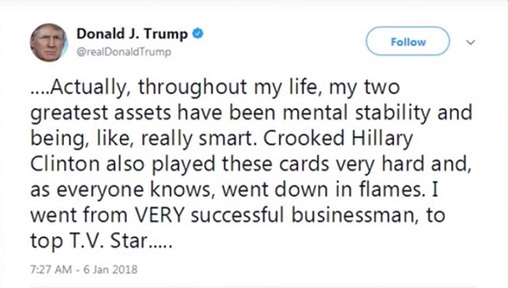 Joe Scarborough, co-host of MSNBC's Morning Joe, said sources close to the president had already told him during the campaign that Trump has the "early stages of dementia."
Psychologist: Trump is 'losing grip on reality' with 'conspiracy theories'
A dozen lawmakers from the House and Senate have already received a briefing from assistant clinical professor at Yale University, Dr Bandy X Lee, after inviting her to assess Trump's cognitive activity, which has raised speculation that the President could have dementia.
Dr Lee later told CNN: "As he is unraveling, he seems to be losing his grip on reality and reverting to conspiracy theories. There are signs that he is going into attack mode when he is under stress."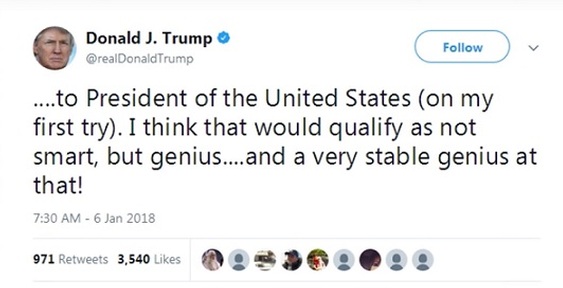 According to Alzheimer's Research UK: 'Dementia is more than just memory loss – most people associate dementia with memory loss, but the condition affects people in a wide variety of ways.
'That might include changes in behaviour, confusion and disorientation, delusions and hallucinations, difficulty communicating, problems judging speeds and distances and even cravings for particular foods. Everyone's experience of dementia is different.'
The 71-year-old Donald Trump's annual health check was scheduled for 12 January but there is no legal requirement for presidents to publish the results of a medical examination.
A White House press briefing on 4 January, has already led the White House Press Secretary Sarah Huckabee Saunders to describe media questions about Trump's mental fitness for office as "disgraceful and laughable."
Alzheimer Research UK (ARUK) states: 'Alzheimer's often develops slowly over several years. It is not always obvious to begin with and symptoms can be subtle and overlap with other illnesses such as depression.'
ARUK stresses: 'There are no treatments that slow or stop diseases like Alzheimer's'.