The Government wants to recruit business people to fight for the rights of people with disabilities by making trains, restaurants, pubs and fashion more accessible to disabled people.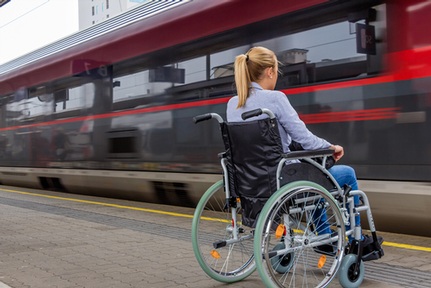 The Office of Disability Issues is seeking 'disability champions' who can improve products and services in six sectors to give disabled people more choice and equal opportunities.
The six sectors are:
• Trains
• Leisure – e.g. pubs, restaurants
• Arts and culture – e.g. theatres, cinema
• Technology
• Insurance
• Fashion
'Catalyst for change'
Finding space on a packed train is a daily battle for many commuters but for people with disabilities, the battle can be much harder. The struggles of using a new technology can also leave disabled people feeling isolated from a community. Being able to use a disabled toilet that meets the needs of someone with a particular disability can also be a challenge and is not helped by the fact that other people may not realise you have a disability.
The Office of Disability Issues, part of the Department for Work and Pensions (DWP), stated: 'It is our hope that these Champions will become a catalyst for change.
'We need champions who are ambitious, passionate and dynamic, with strong networks and the ability to reach out to a wide range of organisations and to create momentum for change.' Business people who already have influence in the six sectors named above, are being called upon to become champions initially for a year, to help bring about a cultural shift in these sectors.
The DWP added: 'We would be grateful for expressions of interest from people who are ready for this challenge, and would welcome the opportunity to work within their sector and beyond to deliver on these goals.'
'The Purple Pound'
There are more than 11 million disabled people in the UK and their spending power- known as the Purple Pound - is almost £250 billion. But as well as people with disabilities feeling excluded and missing out on products and services, many businesses miss out too by not tapping into these customers because their products and services are not accessible to disabled people.
Since February 2017, 11 disability champions have been driving improvements in other sectors. These champions, who represent sectors including retail use their influential status as leaders in their industries to promote the benefits of being inclusive to disabled people.
Expressions of interest from interested parties for the six sectors can be made by visiting the DWP website and completing the 'Expressions of interest form: disability sector champion'.
The deadline for emailing expressions of interest is midnight on 28 January.