A 63-year-old grandmother, best known for her award-winning work on children's TV series Fireman Sam, has become the world's oldest first-time bodybuilder.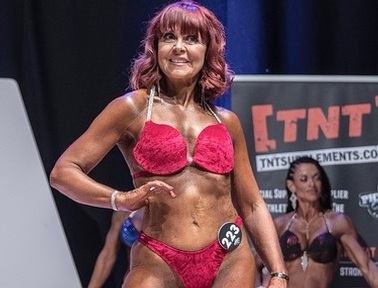 Nia Ceidiog, who wrote the original series of Fireman Sam in both English and Welsh in the 1980s, embarked on the muscle sculpting sport in an attempt to look good for her son's wedding. However last autumn – at a lean size 6 – she stepped into the spotlight to compete against 300 professional bodybuilders and their rippling torsos.
"It was extremely hard work, but I learned so much from my journey," she said.
Lining up against people 20 years younger than herself, she fought her way to a medal in the class for over 35s, becoming one of three in the whole contest to be awarded.
"My family were there to cheer me on, it was a very pleasing and humbling experience," she added. "And the whole thing has taken ten years off me – the way I look, the way I think and the confidence it has given me."
'I was self-medicating with wine and ready meals'
It was an invitation to her son's wedding eight years ago that turned her life around. A size 16, with an unhealthy lifestyle, she threw herself into exercise and yoga.
"At first it was vanity and I embarked on a process of making myself presentable," she said. "At the time I was a very stressed overweight female in my fifties with a staff of between eight and 12. I was working too hard and self-medicating with wine and ready meals.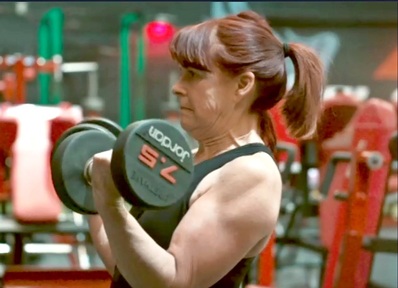 "I also realised along the way that our prospects of living to an older age are very high and that I could easily be looking at another 30 years. I knew I wanted to enjoy these and keep the bad elements of ageing at bay."
Ms Ceidiog was already down to a size 12 with a relatively high level of fitness but wanted to try something unusual as she'd never been sporty at school, nor been very happy in her skin.
She chose bodybuilding, a sport which works on the aesthetics of the physical body and set her goal to reach the Physical Culture Association (PCA) Xplosive Ape Grand Prix competition in Birmingham.
'I was on the brink of giving it all up'
But six months in, she revealed she was at the point of giving up on her dream because of health problems.
She said: "It was an amazing journey that turned out to be transformational physically, spiritually and intellectually but it was also extremely challenging and there were dark times along the way. In fact, at the lowest point I was on the brink of giving it all up."
As part of a healthy eating plan, Ms Ceidiog gave up eating dairy in 2010, and two years ago, also gave up meat.
However, the bodybuilding programme required her to start eating them both again to build up muscle by taking in protein.
"As part of the bulking process at one stage I was eating 3,000 calories a day," she said. "I saw it as a short-term sacrifice of my morals and principles to achieve my goal but it made me feel quite ill.
"I became very dull physically and mentally. I was getting heavier and heavier, although it was with muscle and not fat.
"Another worrying thing which happened was that I developed a version of psoriasis affecting the nails. These were big problems that indicated to me that something horrible was going on inside my body and a sign that I urgently needed to make changes."
'No-one considers my age in the gym'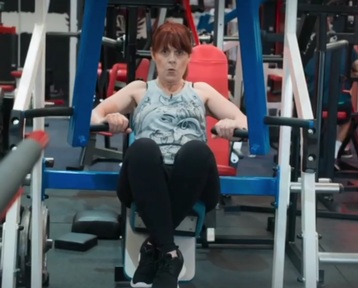 A naturopath advised Ms Ceidiog on a diet which meant she could resume her normal eating pattern and stop eating dairy and meat.
"I started to recover and despite having been on the brink of giving up, I was spurred by a new enthusiasm," she revealed.
"I had experienced a terrible feeling of failure, sadness and worry, so I was very pleased that I became more energetic."
While bodybuilding can, at times, be 'tough', Ms Ceidiog would encourage anyone to take up the sport or follow a passion for keeping fit.
"It's very important to be physically strong and this requires work," she said. "For me bodybuilding is a very good way to do it. But no-one considers my age in the gym – I work the same as every other athlete – no allowances made!"
Ms Ceidiog, originally from Wrexham, runs a successful TV production company and is also the creative mind behind the BAFTA Cymru winning Dwylo'r Enfys.
Away from training in the gym, she has completed a new series of TiPiNi which aired on S4C last month.