A son has praised Sainsbury's on Twitter for supporting his mum to stay on at work, "going above and beyond to make sure she's happy and feeling valued".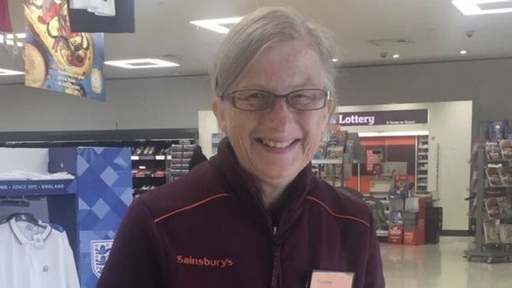 With tweets that have gone viral, Doron Salomon, thanked the supermarket in Kenton, North London, for keeping her on, after she was diagnosed with Alzheimer's disease, with an occupational health assessment showing the disease was so advanced that "in essence, she was unemployable".
His mum, Yvonne Salomon, had been working as a book keeper for Sainsbury's since 2012, being "a very organised person who was good with numbers". However once the disease took hold, she could no longer do this role and Sainsbury's gave her a job as part of the instore picker team, putting together people's online orders for delivery.
Mr Salomon said: "Medically, she was fine even if staff may have quickly realised something was up. Since being diagnosed late in 2013 Sainsbury's were made aware of every medical update and have been outstanding ever since.

To help her cope with the job, Sainbury's offered her regular retraining, changed her hours and had regular welfare meetings with her and her husband as well as ensuring her colleagues were aware of her condition so they were able to help her.
It even went as far as creating a role for her that didn't exist so "there was something in-store she could do despite the fact her job title has never changed from 'picker'. Most recently this has involved giving her the task of cleaning the tote boxes (something staff already did as part of their job)," said Mr Salomon.
"To my mum, cleaning the tote boxes became the most important job in the world. If she didn't do it the store would fall apart. The sense of self-worth and pride has undeniably helped with aspects of her Alzheimer's, such as giving her something to talk about in social situations."
He claims there have been so many times Sainsbury's could have let her go. "Instead, every time my Dad was called in for a meeting, fearing the worst, it was because they had noticed a decline, were concerned about her and wanted to know what more they could do to help."
Saturday 3 March was her last day at the store

A spokesman for Sainsbury's called Yvonne Salomon "a much loved colleague and an inspiration to all of us" and said: "We'd like to thank her for her years of service and wish her all the best for the future."
In response to the tweets thanking Sainsbury's, Emma Bould, programme partnerships manager at Alzheimer's Society, praised "Sainsbury's for the care and sensitivity they have shown. Over the last couple of years, we have worked with Sainsbury's in producing the Dementia-Friendly Business Guide and understanding more about how organisations can support their employees affected by dementia.
"Often people living with dementia stop working as their dementia progresses because they are worried about getting the support they need. But this is proof that, with the right support from employers, people with dementia can continue to work and contribute to society after a diagnosis."
Last year, Sainbury's became the first supermarket in the UK to install dementia-friendly toilets.