Arthur Ellis, who lost his sight 12 years ago after falling seriously ill with bacterial meningitis, has revealed he uses Blu tack, elastic bands and stencils to help him paint and draw the hallucinations he suffers from.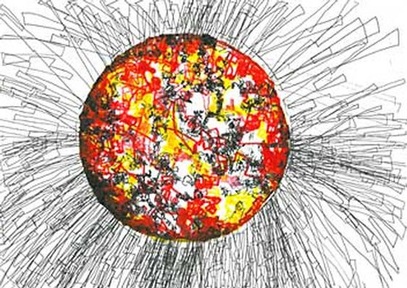 In 2006, Arthur was rushed into intensive care and fell into a coma, after contracting bacterial meningitis. After three weeks on a life support machine, he realised he had lost his sight. "I didn't have time to prepare or come to terms with it. I wasn't totally aware of what had happened to me so I didn't even consider the fact that I may never draw again," he says.
Life after losing his sight was inevitably extremely tough, but it was his art that helped him through the trauma, with his son David Ellis saying: "He had a lot of grief when he first went blind but he knows there is no way he is going to get his sight back.
"When his sight got taken away from him, he didn't want to stop doing his artwork so we bought lots of stencils for him. Art is very much his therapy."
The 71-year-old, who lives in Tunbridge Wells in Kent, uses Blu tack, elastic bands and stencils to mark out areas on the paper. He also "draws instinctively" and uses a device called a Penfriend from the RNIB.
"This allows my family, friends and carers to record sticky labels which are applied to my art materials. I hold the device over the labels and I am told all the important information such as the type of pen or pencil, colour, thickness and the colour of the paper," he says.
Hallucinations - Charles Bonnet syndrome
Losing his sight has left Arthur experiencing vivid hallucinations known as Charles Bonnet syndrome. These hallucinations are only visual and are a consequence of the brain responding to sudden sight loss. It is thought if the brain stops receiving all the information it used to get, it fills in the gap with stored images or patterns. Around 100,000 people in the UK have Charles Bonnet syndrome.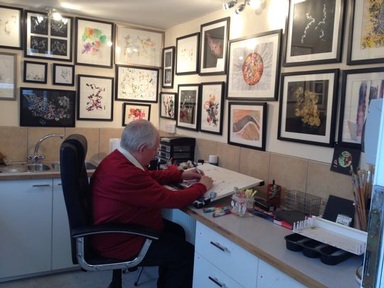 Arthur says: "Charles Bonnet hallucinations are very surreal and fascinating at the same time, but they can also be very scary. I see large cats, dragons, dolls and vast landscapes. This affects my mobility because as I move room to room I feel I am standing on a cliff edge. I have been told people with the condition see similar things."
Some people worry they have a serious mental health problem or are getting dementia and it can also be extremely disturbing. Arthur feared he was losing his mind and when he told one of the nurses at the hospital, she told him not to tell anyone about the hallucinations in case someone tried to section him.
He has found medication helps and says: "I have finally begun to appreciate that they are just figments of my imagination. Scary visions still come back and haunt me though and I have to change rooms frequently to try to sedate them."
Arthur uses artwork to help make sense of his hallucinations. He is supported in his work by his sons and his home care workers.
'He asks us if his pictures are complete as he can't see what he has drawn'
His son David says: "Creating his art gives him something to do. He can listen to the radio but after that he gets bored. He asks us if the pictures are complete as he is unable to see what he has drawn.
"Each picture takes a couple of hours. He has done some 3D art but most are 2D. He creates his art by marking out shapes with blu tack and elastic bands and then he colours in those shapes."
One of Arthur's paintings got through to the finals of the Sense Scotland Helen Keller Art Awards.
Arthur is helped and supported by two home care workers from Caremark (Tunbridge Wells, Tonbridge & Malling).
Sarah Kent-Davies cares for him two days a week and she has bonded with Arthur over their shared love for music and art.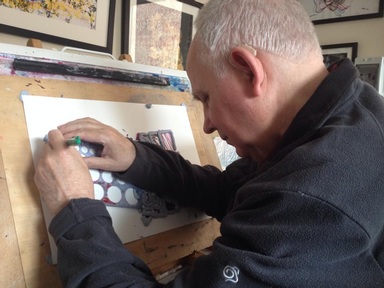 "Caring for Arthur is my job but helping him to feel inspired is a passion. His entire life has been about creativity and it's important that he never loses that – he's lost so much already. His artworks, post sight loss, are incredible, so I constantly plan activities for us to do together where he can bring his masterpieces to life.
"I do his meals and drinks for him and we chat and play music together. He has a voice activated radio and we listen to Jazz FM and Radio 2.
"When he does his artwork he has pens that talk to him and tell him what colour he is using. I help choose which colours to use and help him set up his drawing. He positions everything so well on the paper. It is incredible what he can do when he can't see anything," she says.
Every Friday Sarah takes him to a craft group where he does his artwork and has some cake and a cup of tea. She also gives him mini pedicures and manicures.
Sarah is a keen musician and she plays the trombone and the saxophone, which Arthur also plays.
"We often sit and play saxophone together. I've invited him and his son along to watch me play in a band, and I regularly introduce Arthur to musician friends of mine. Arthur loves jazz music and we share a passion for 60s and 70s tunes, so we spend a lot to time listening to music. He's a great man, with so much to say.
'He tells me he sometimes dreams he can see'
"He can remember what things look like from when he could see. He often uses both of his hands when he is drawing something," she says.
Sarah admires the way Arthur gets on with life, despite his disability, saying: "He never seems to get frustrated. He never moans or complains. He is such a lovely person. It is quite sad for me as I never knew him before he lost his sight. I wish I could magic back his sight for him.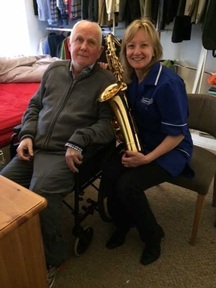 "He is deaf in one ear and partially deaf in the other so when we go to the craft group, it can be hard for him to hear as there is a lot of external noise."
She is currently looking into doing a deaf blind communication training course which works by touch, as that will help him to communicate.
Arthur has found Sarah's help to be invaluable, saying: "Sarah has been great - she helps me with mobility, socialising and encourages me to produce more artwork. We also share a passion for music and spend a lot of time chatting about our favourite musicians.
"Sarah is a lovely person with whom I immediately got along with. She is incredibly professional but I would also count her as a friend – she always has my best interests at heart. Her support with my art work has been a blessing for me. The musical connection was a pleasant surprise and she has helped me in finding another outlet for my creativity. I feel very fortunate to have someone who is supportive of musical endeavours, along with the variety of other day to day activities we get up to. Quite honestly, I don't know what I would do without her."
To see more of Arthur Ellis's work click here
To find out more about Charles Bonnet syndrome go to http://www.charlesbonnetsyndrome.uk/
click here for more details or to contact Caremark (Tunbridge Wells, Tonbridge & Malling)