A shortage of specialist cancer nurses in NHS hospitals is "putting patients' lives at risk", a new report has revealed.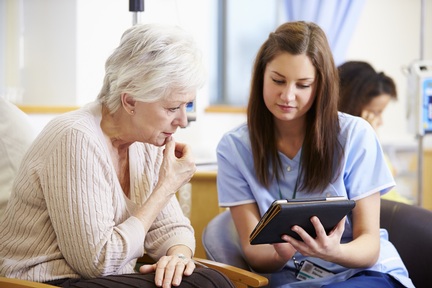 Macmillan Cancer Support has warned that cancer patients are not receiving the level of specialist care they need, as nurses are "run ragged" from heavier workloads.
Dr Karen Roberts, chief nursing officer at Macmillan Cancer Support, said: "Having the expertise and support of a specialist nurse from the point of diagnosis has a huge bearing on whether or not a cancer patient has a positive experience of the care they receive. We are concerned that cancer nurses are being run ragged, and that some patients may not be receiving the level of specialist care they need.
"Nurses working in cancer care tell us that their increasingly complex and pressured workload is beginning to affect the quality of care patients receive. It is no surprise that hospitals are struggling to recruit to these roles, given this unprecedented pressure."
The in-depth study carried out by Macmillan Cancer Support gives the most accurate picture of the cancer nursing workforce in England to date.
The report looked at four roles: specialist cancer nurses, chemotherapy specialist nurses, specialist palliative care nurses and cancer support workers.
It found there is a "startlingly broad variation" in the number of specialist cancer nurses in some parts of England compared to how many new patients are being diagnosed (around 830 every day).
It also revealed that hospitals have more than 400 vacancies for specialist cancer nurses, with as many as one in seven chemotherapy nurse positions being unfilled in some parts of England.
According to the report, most of the cancer workforce remains female, with a decrease in male specialist cancer nurses from five to four per cent since 2014.
Macmillan warns that a trend of highly trained specialists taking on increasingly complex caseloads for lower pay may be exacerbating recruitment and retention problems in the cancer nursing workforce.
Dr Fran Woodard, executive director of policy at Macmillan Cancer Support said: "This situation will become more acute as the number of people being diagnosed with cancer continues to grow.
"We welcome the progress Health Education England is making on the cancer workforce strategy. However, this census highlights the urgent need for this essential part of the NHS workforce to be properly equipped to cope with the increasingly complex challenge that cancer poses in the years to come, and it is therefore vital that the Department of Health and Social Care ensures that the cancer workforce strategy is appropriately funded."
For more information on the report go to: www.macmillan.org.uk