A restaurateur in Norwich is using her experience of family dementia to help others in the local community.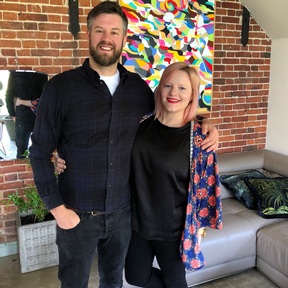 Hannah Springham, shareholder of Farmyard, has launched a dementia- friendly lunch service after experiencing first-hand the difficulties of going out for a meal with somebody living with the condition.
When her mother was diagnosed with dementia in 2008, Ms Springham described eating out as "a sad experience" and became determined to let her diners have the "best possible time", whether living with the condition or caring for those with it.
The 35-year-old said: "I think it's really difficult going to lunch or dinner with someone that you love who has dementia. I found it quite a sad and isolating experience, particularly when you're sat opposite someone that doesn't quite know who you are anymore."
She added: "My mum had dementia before she passed away in 2015 and eating out was challenging for a number of reasons. For her it was difficult navigating the menu, knowing where the loos were and generally feeling as though she was in a safe place. But it was also challenging for us making sure we didn't lose her and ensuring she was relaxed.
"Whenever we went to places that understood the condition, it made for a much better experience for all of us and we want to be a place like that which is accepting of everyone."
The service at Farmyard, in St Benedict's Street, has been designed to facilitate a comfortable dining experience for those living with dementia and their carers.
All members of staff are Dementia Friends and have received dementia training from Age UK Norwich. A dementia-friendly picture menu is also available for diners, which is clear, easy to navigate and eases decision making.
Andrew Jones, owner, head chef and husband of Ms Springham, added: "Dementia awareness is something really close to our hearts and when we found out about Age UK's dementia friendly initiative, we wanted to get involved and make life easier for people living with dementia and their carers.
"People should be able to go out and enjoy doing simple things like having a meal and we want to make that as doable as possible."
Farmyard is one of 54 businesses in Norwich that have joined the Dementia Action Alliance. For more information on its dementia friendly lunches go to: www.farmyardrestaurant.com