Nineties punk band, Heavy Load, were one of the first to have a significant amount of band members with learning disabilities, but they soon got fed up with support workers showing up at gigs early to take home many of their fans, who also had disabilities.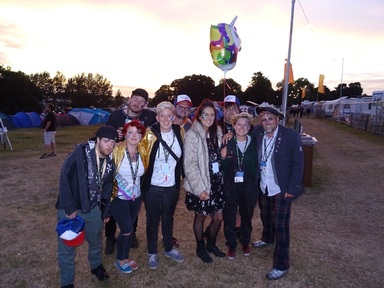 Bass player, Paul Richards was a support worker himself at the time, and he decided: "Enough is enough; we need to do something about this" and so he set up a befriending scheme in which people with learning disabilities could pair up with a gig buddy and go out and enjoy a good night out, without being told they had to go home to bed early.
'People were being taken home early, against their wishes'
Heavy Load had a massive following at the end of the nineties and were interviewed by Guardian music critic Alexis Petridis, who described the band as "a foul-mouthed take on '60s garage punk so chaotic that even the band's members seem at a loss to describe it".
Two of the band members had learning disabilities and one had Down's Syndrome and this shaped the musical sound of the band. Paul reveals they became a punk band because 'that was the noise that came out' and also due the fact that their drummer "couldn't keep conventional timing" and their singer "was brilliant at swearing".
Despite acceptance from magazine NME and from music fans, the band members themselves were often held back because they found their fans had to be home by a certain time.
Paul says at many gigs they were going on stage earlier and earlier. He says: "We started asking if we could go on earlier on the night because fans kept leaving before we got on stage, and then we said, 'hang on a minute, we're meant to be the headline band, this is ridiculous'. We used to observe people being taken home early, against their wishes."
It wasn't just the fans that had a curfew, it was the band members too. One time, the band had played a gig for a pub in Seaford in East Sussex and it was the first time they had ever played to a 'mainstream' audience; and they went down a storm.
Paul says: "The place was rammed, it was a great night, it was filmed in the movie that was made about us, and then afterwards we were having our 'post-gig' beer with Michael, our drummer, who has Down's syndrome and his support worker came up to him and said: 'OK, drink up, it's time to go home' and it just took the shine off the night."
Issues such as this were captured in the documentary film, 'Heavy Load', which followed the band over two years as they recorded their first album, 'The Queen Mother's Dead'. The film gained the band a lot of media attention. Mark Kermode called it "A really, really fine music documentary".
The charity 'Stay up Late' was born out of this moment, and the band capitalised on the momentum from the film to get the message out that individuals with disabilities had as much right to go out and stay till the end of a gig.
'New social network' for man facing homophobic hate crime
A lack of social networks and a feeling of isolation are not uncommon for many people who have learning disabilities.
Almost one in three young people with a learning disability spend less than one hour outside their home on a typical Saturday according to Mencap.
Recent research from Scope has also uncovered that a staggering 85 per cent of young disabled adults from the 18-34-year-old age group feel lonely.
There are many support workers who go above and beyond to try to facilitate a good night out for the people they care for, however, workers' rights also have to be protected to ensure support staff aren't getting burnt out.
Gig Buddies is a scheme that was started by Paul which bridges that gap; matching adults with learning disabilities to a volunteer with similar interests - so they can go to events together that they both love.
Originally pioneered in East Sussex, the scheme is now franchised out to different areas so that people have access to the services in more geographical regions. Volunteers can typically expect to go to at least two gigs a month.
One beneficiary of the scheme, John, had a mild learning disability and was the victim of homophobic hate crime when he lived in Southend. He received four hours of community outreach support each week, and his support worker referred him to Gig Buddies.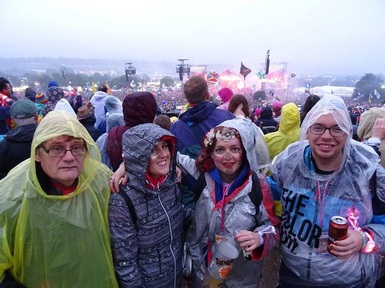 Paul says: "He moved to Brighton three years ago as he'd heard it was a friendly place for gay people, which took many years of planning and a huge amount of bravery on his part, but when he moved, he didn't know anyone and faced total social isolation."
John is also a huge music collector. Through the scheme he now has a volunteer who shares his passion for 70s glam rock and who is also active in the local gay community.
Paul says he and his Gig Buddy "now go out regularly and are firm friends" and "he has also built up a network of people at a couple of clubs who look out for him, and who he feels comfortable talking to.
"He is able to feel a valued part of the gay scene in Brighton and is happy and comfortable with his identity. His Gig Buddy, with the help of the project manager, has been able to have ongoing conversations with John about staying safe when he goes out."
'I've waited 23 years to get him into a nightclub'
Having a friend to go to a gig with, rather than just a support worker, can make a huge difference to the experience of the event for a person with learning disabilities, and real friendships do blossom.
And it isn't just visiting gigs - doing things such as going to nightclubs, festivals, the theatre or even to see a film helps people integrate into society by building up their social networks.
Another member of the scheme, Ed, found it life-changing in terms of building up his social confidence.
He was in the process of moving out of his family home and his mum really wanted him to make connections and friends to help with the transition. He lives in Bognor and whilst he can play a musical instrument, is often too shy to go out and meet people spontaneously.
His mum referred him to Stay up Late and he attended their AGM but he was too anxious to set foot inside the venue. It took all afternoon of small steps and members of the team going out to talk to him until eventually, he joined the team for 20 minutes.
Paul says: "We have slowly got to know Ed and recently he joined us for his first ever nightclub visit and he stayed on the dancefloor with 25 other gig buddies for three hours and went home at 1:30am."
Ed's mum said: "I've waited 23 years to get him into a nightclub, I knew he would love it. Wait until he's really comfortable with the Gig Buddies gang, he'll be breakdancing!"
*Names have been changed in the article to protect the privacy of individual members of the scheme.